Reviews
THE EVIL AMIDST "Lords Of The Nine"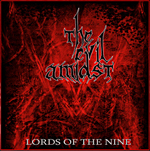 iTunes – 2010 – A.B.D.
THE EVIL AMIDST from Florida is new but it can be defined as "all-star" because of the professional musicians forming the band who are the members of Malevolent Creation, Hate Plow and Kult ov Azazel. After the band had become in 2009, they published a demo and now they're prepearing to release a new album named "Lords of the Nine". You can listen to songs from band's myspace page for now.
Band's genre is a bit different from the members' other bands and as a result of this, it becomes more average. They have classical Florida death metal and heavy drums and at the same time, it is a good and melodic mixing with the black metal's fast guitar riffs, death metal's brutal vocals and black metal's scream vocals.
Finally considering the album generally, we can see both black metal and death metal infulences in the songs.
Even if it resembles, in order to see the same musicians' performances in other genre, you can listen to "Lords of the Nine" album.
8/10