News
The Dillinger Escape Plan
THE DILLINGER ESCAPE PLAN's new album, "Option Paralysis", will bereleased on March 23. The opus, recorded in Orange County, Californiawith longtime collaborator/producer Steve Evetts (THE USED, GLASSJAW,EVERY TIME I DIE), will be the debut release for the band's brand newlabel Party Smasher Inc./Season Of Mist.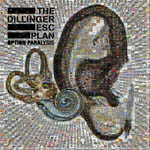 Tracklist:
01. Farewell, MonaLisa
02. Good Neighbor
03. Gold Teeth On ABum
04. Crystal Morning
05. EndlessEndings
06. Widower
07. Room Full OfEyes
08. Chinese Whispers
09. I Wouldn't If YouDidn't
10. Parasitic Twins
"Farewell, MonaLisa", the new video from THE DILLINGER ESCAPE PLAN, can be viewedbelow. The song was premiered this past Christmas exclusively on SiriusXM's Liquid Metal. The track is now available for digital download withexclusive artwork on iTunes, Amazon and all major download platformsworldwide.