Reviews
THE DESTINY PROGRAM "Gathas"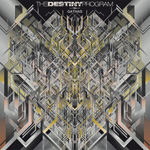 Bastarized Recordings – 2010 – Germany
German band The Destiny Program who released their last album in 2007 will release a new album "Gathas" in following April after 3 years. Gathas is the first album that the members of the band recorded by themselves and they worked with a known name Tue Madsen (Halford, Behemoth, Kataklysm, The Haunted) in mix-mastering process.
The band has emotional songs which are bit melodic, bit core and called as modern metal which is popular lately. Sometimes they used clean vocals in songs but generally they use desperate, sorrowful scream vocal like the atmosphere of the songs.
The album lasts 56 minutes and consists of 15 songs. I think the album is listenable in appropriate modes, if the mood isn't suitable for listening, I'll be bored while listening these kind of bands. But, it doesn't mean that the album which I am bored when listening is a bad one, I can listen it in suitable modes and I can recommend it for whom searching for depressive things.
7.5/10