Reviews
TERMINATE "Ascending To Red Heavens"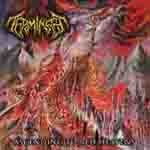 Selfmadegod Records – 2013 – U.S.A.
The Americans TERMINATE are heard from again namely in the form of "Ascending To Red Heavens". Selfmade Records will publish the latest trick in February 2013.
TERMINATE play Old School Death Metal. Coarse and raw beat the guys merciless their songs in the listeners' brain. The songs go forwards powerful and energetic. Supported by aggressive, screaming guitar riffs and forceful bass lines develop here independent songs. The emphatic growls put the final touches to the production. TERMINATE take no prisoners and floor the accelerator from the first to the last note. Thereby the songs appear fresh and unconsumed. The gents find here their own musical path without loosing sight of the basic goal. Very ambitious and clean recorded I can only recommend this cd!! Check out TERMINATE and form your own opinion!!!!