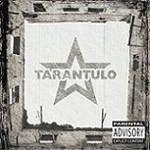 Metal Scrap Records – 2012 – Russia
TARANTULO are from Russia. Last year they published their debut album "Tarantulo".
To determine oneself here at one musical style is rather impossible. Nu Metal elements mingle with Hardcore and Groove Metal. That's probably the best description of the music which resounds off my loudspeakers. By the change of hard Death Metal riffs up to melodic tones "Tarantulo" receives alternation and simultaneously dynamics. The all in all ten songs sound fresh and go forwards. Thereby they doesn't miss hardness. The powerful growls give additional sustainability. Thereby it is keep the eyes glued to the melodic issue. The variable use of tempi give additional dynamics and innovation. The Nu Metal / Hardcore influences are permanently hearable and affix their very own stamp to the production. "Tarantulo" gets at no time boring by the colourful mixture of styles. The cd is recorded very ambitious and dedicated. I can only recommend this cd to anyone who likes experiments and mixtures!!!