The past few years have seen Norwegian-based TAAKE busier than ever before with numerous tours around the world and increased productivity. With their fifth studio offering, Noregs Vaapen, TAAKE have refined their respected black metal sound, expanding this time around to include new elements. The album is filled with Hoest's trademark riffs, melodies and vocals, but also embraces the unpredictable — more black'n' roll grooves, ice-cold mellotrons and Southern-inspired banjo.It is without a doubt TAAKE's most diverse and unique recording to date.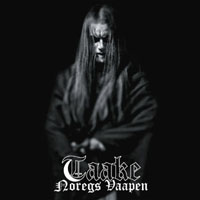 "Noregs Vaapen" was produced by Bjørnar E. Nilsen (Dead to this World, The Batallion, Helheim, Vulture Industries, etc.) and features guest appearances by Nocturno Culto (Darkthrone), Attila Csihar (Mayhem) and Demonaz (Immortal).
Tracklist:
01. Fra Vadested Til Vaandesmed
02. Orkan
03. Nordbundet
04. Du Ville Ville Vestland
05. Myr
06. Helvetesmakt
07. Dei Vil Alltid Klaga Og Kyta
"Noregs Vaapen" will be released in North American via Candlelight Records on November 1, 2011.