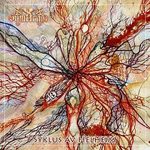 Metal Scrap Records – 2012 – Ukraine
The Ukrainians SYMURAN released last year their debut cd " Syklus Av Helheim" via Metal Scrap Records.
SYMURAN celebrate here Black Metal. Pitch-black Black Metal riffs unite with severe doubleblast drum thunderstorm to an unholy musical alliance. The listener is carried away to dark worlds of ice and hate of which there is no escape. Very emotional and intense songs which make a lasting impression. The dark, distinctive growls of vocalist Vlad Rommel yet reinforce this impression. The gents doesn't think twice and come straight tot he point! The all in all six songs flog raw and impetuous like a hail of bombs to the listener. The conscious kept simple song structures emphasise and manifest the nativeness and nevertheless sustainability of the production. Interspersed melodic speckles enter a deadly symbiosis with hardness. All told result in the typical sound of SYMURAN. I can only recommend " Syklus Av Helheim"!!!!