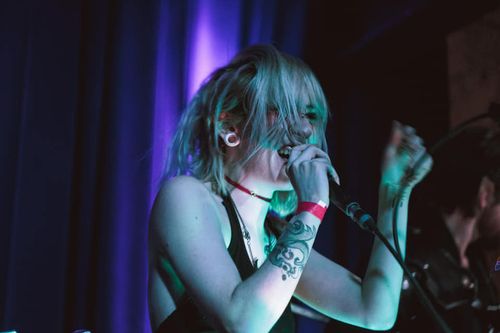 Sunsinger is a progressive metal band established in Plymouth, Massachusetts in 2017. Their sound is a contemporary blend of progressive and melodic elements combined with in-your-face riffs and breakdowns tucked neatly under vocalist Carrie Brum's range of operatic high notes down to guttural screams. Guitarists James Frost and Chris Prendergast alternate from building pillars of sound through distinctive rhythm and lead pairings to quick and impactful harmonies. Bassist Dvstin Black brings the heavy with slamming bass power, bringing chunky rhythm stabs and chaotic tapping passages into the mix. Drummer EJ Gellar is an absolute monster, keeping the constant speed up with fast drum rolls mixed into the mathy time signature switch ups.
In 2018 the band had the pleasure of opening for Hatebreed at the Fete Music Hall in Providence, RI for The Providence Tattoo & Music Festival 4.
Tree Blood is a song about those moments between relationships where there is uncertainty. Not necessarily a romantic relationship but any interpersonal connection. I've felt moments where the flames died with someone I was close to and had that empty feeling in my chest. "Thought that my chest was hollowed out inside, nothing left but spiderwebs." Then you inevitably meet someone new who reignites the flame or gives you that "electric shock" that revitalizes you and you feel the strength to continue on.