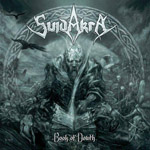 AFM Records – 2011 – Germany
Suidakra is a band that does not get nearly the attention and praise they deserve for the music that they deliver and the dedication they have to their art. I myself am guilty of letting them slip by me time and time again with only hearing a few tracks here and there. But I was lucky enough to get a copy of their latest release, "The Book of Dowth", and was completely blown away. Perfect example of quality versus quantity; there is plenty of diversity to keep the listener hooked. Melodic folk/death metal that vocalist/guitarist Arkadius has finely crafted over the years so that Suidakra are able to stand on their own.
Starting off with bagpipes being played off in the background with the opener "Over Nine Waves", it then comes crashing with guitars and drums that all balance out together perfectly. Arkadius' vocals are delivered with nothing but power and fury on "Dowth 2059" that sets the scene for the rest of the album. The drumming on "Battle-Cairns" is soft at the beginning but then Lars brings it into the spotlight and keeps up a tempo and rhythm that will have you head-banging throughout. "Birog's Oath" is beautifully done with female lead vocals that are atmospheric and powerful. The harmonies are epic and there is a sorrowful tone that will give you chills up and down your spine.
"The Dark Mound" is one Suidakra's strongest moments with savage vocals, thick riffs and excellent guitar lead. It's rhythmic and catchy but still holds a darkness that is mesmerizing. "Balor" is full of symphonic melody and a chorus that will have you pumping your fist in the air. "Stone of the Seven Suns" is another one that will find you singing along to after just one listen.
I can't say enough about this album; it's full of atmosphere and raw passion. There plenty of hooks and melodies that will leave you wanting more. "Book of Dowth" is one that I will go back to again and again. This is a must have not only for fans of this genre of melodic death metal but for metal fans everywhere!
10/10