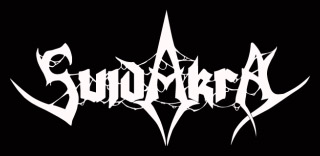 SUIDAKRA – this band stands for folk metal like no other German band. Through the years they gained a huge and loyal fanbase and put themselves on top of the scene. SUIDAKRA don't go with the flow, that's for sure. 10 albums in 13 years of band history – years before there were indications for something like a pagan hype, this band already set the standards. The unique combination of fast melodic death metal and celtic folk elements was inspiration for masses of young bands.
Now – two years after the by fans and critics acclaimed "Crógacht" – SUIDAKRA are back with a sweeping swipe that will outshine the emulators once again. "Book Of Dowth" – the "book of darkness" – proofs not only the band's high class, but also run the musical path they once started.Bassist Marcus Reiwaldt was kind enough to talk with me about the new album and some of their future plans!
Hey Marcus, thanks so much for taking the time to talk with me, how are you?
Marcus: Doing great, thank you for doing the interview as well!
Just wanted to say congratulations on a fantastic album, how has the feedback been so far?
It's been really great, we've been getting great reviews not only from the papers but also from fans from all over as well. We're really happy with it, we worked really hard on it and it came out exactly the way we wanted.
How would you compare it to previous albums?
Less epic, I guess you would say. A lot darker, a lot more evil. The concept behind the album is a lot more audible too.
What is the concept behind the album?
It's basically about a person who is led by a dark force to find this book at a gravesite somewhere in Ireland; he then opens the book and unknowingly lets these demons free when he opens the book. It goes on to tell about how the Book of Dowth was crafted by these demons later on in the album.
Who was the female singer that you used on "Birog's Oath"?
She's a singer from Germany named Tina Stabel, we worked with her 3 or 4 times before and she has incredible vocals.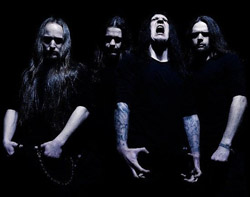 She really does have a beautiful voice and it lends a lot of diversity to the track.
Yeah, I absolutely agree.
As a band do you guys all make the decisions together about what goes on the album?
Yeah, we're a very democratic band. We want everyone to be happy and comfortable with the end result. So if there's something someone doesn't like on the album, we'll try something different but everyone's usually satisfied.
What are your thoughts on the whole pagan/folk metal scene today?
We're not really into the whole trend that's been coming and going these days. Suidakra has always had their own sound and that's what's most important.
How would you describe your music?
Super cool (laughs). I guess you call it melodic death metal with a Celtic folk influence.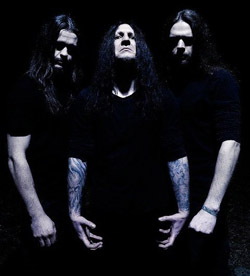 Who've been some of your influences over the years?
We don't really have too many external influences right now. Back in the day it used to be Blind Guardian or In Flames but not really any today. We just do what we like and have our own sound.
Which is good, you don't really want that to influence your music.
Exactly.
So what are some future plans?
We just got back from a European tour but we're going to play some festivals over the summer. We're going to play the Wacken festival which will be incredible. Then we're going to do a tour in Ireland, Russia, and the Ukraine. After that we'll be doing a U.S. tour in 2012.
Awesome! Any words for your fans?
Just thanks for all of the support, we hope to see people at the shows!
Thanks again Marcus!
Marcus: Thank you!