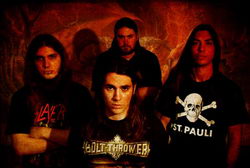 Greek old-school thrashers SUICIDAL ANGELS have revealed the final track listing for their debut album, "Eternal Domination", due on July 16 via OSM Records.
"Eternal Domination" track listing:
01. Quench Your Thirst With Christian Souls
02. Evil Attack
03. The Prophecy
04. Crematory
05. Slaughtering Christianity
06. Sacred Prayers To Expiation
07. Demon's Bloodwrath
08. Armies Of Hell
09. Screams Of Homicide
10. Vomit On The Cross
11. Eternal Darkness
Source: Xtreem MusickSUICIDAL ANGELS' last release was a four-song mini-CD, "Armies of Hell", which came out in 2006.