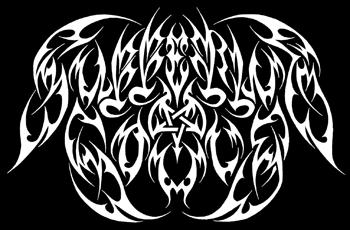 Hi. What is the band doing these days?
Lord Esgaroth : Ave. As all first one I would like to find out once that there is no "Band", only me as a sole and original foundation member. At the moment I work on new songs and experiment with different sounds in my studio.
How was the process of making of the Sadistic Goat Complex? Does it get the expected attention?
Afterwards I am very happy in spite of all to have renounced superfluous opinions, because otherwise SADISTIC GOAT COMPLEX would sound not so majestic as it is to be heard at last. With the recordings we also did it like all the other bands, begun with the drums / programming. With the small difference to begin with taken up the guitars temporarily to reach around a coarse orientation about the course. Then the bass, the final rhythm and Lead guitars, violins and Synthy of string and choirs were played in and last of course the vocals. The whole album acurre in the DUO Rec. Studio in Berlin, under the direction by Torsten Juch and me, as well as it was also mixed by us both. The complete mastering was also taken over from me in the studio 030 in Berlin. The choice of the studio was very easy, because producer Torsten Juch has already made to himself a very good name in the subsoil scene. He has the ideal one sound created. So must sound symphonic and supreme Black Metal in 2009! The fans and magazines have accepted the album very well and the sales of the CD `s, mp3 as well the shirts run really fantastically.

You have been in Black Metal market since 1994. Are you delighted with the state of your band in this market today?
This is true, we exist since 1994. Of course there are many bands out there during these 16 years have more reached, but one thing you may never forget that I write all songs alone and arranges. Apart from, I am very contented with the development of Suffering Souls.
Germany is one of my favorite country about Black Metal. Whic bands do you like from your country?
The German Black Metal has a lot of potential and very great Bands I like, but also many are just bad like in every country, also in Norway or Sweden.
My favourite song is ''Blessed In Blood'' in the albüm. In this song, we feel the electronif factors of the keyboard. Will you add electronic substructure to your music all the way?
How already said, I experiment at the moment with different sounds and maybe there is on next album a little bit more of it… who knows???
Most popular song in your albüm is ''Resurrected Messiah''. It's a common thought. How was the process of making of this song. Have you ever considered a video clip?
The single song structures and melodies originate first of all in my head, until I try out all single parts then at all in the PC, work out and allows to melt with each other. Maybe I create sometime a video clip…
What do you think abou that metal music is in social network such as Facebook, MySpace? Does that bother you?
I am personally only on MySpace, however, some fans put some things on Facebook and YouTube. I find these networks extremely important to spread the music.
What is the idea that "Suffering Souls" affected in general? What is the message that you try to give in your songs?
"Sadistic Goat Complex" is the misanthropic Messiah, roots in deep of my soul which returns the power and complexity of Lucifer by cruel harmony and charming disharmony musically and lyrically. The songs mirrors my own pure reincarnation, as well as the disdain of the Christian race, the case of the light and the glorious move of the dark legions in the heavenly empire. The path of the dark tragedy is my return… The sky will bleed by my art of the arrogance…
After seeing band photos, I wonder your stage performance most? What is the style of the band? Is there usual visuality of black metal and stage shows?
I believe you have found out really badly about us, because there are no live photos of us. You have found on the Internet this lousy DM of tape SS, against which we since 6 months judicially complaints. WE WON FUCK YOU!!!! Corpsepaint is of course a very important ritual in every appearance.

How is your relationship with Schwarzdorn Production? Will you continue with them? By the way, that would be great if you can say hello to Patrick. 
Occasionally I have still looked a new label, because the application was swindled by Darkwind Records, the old label putting it mildly very much and us simply not come further! Now with Schwarzdorn Production I have found a label which stands to 100% behind Suffering Souls, ripping the ass off and who works absolutely professionally. Big fucking Hail to Patrick, your work is so amazing !!!
I love using of keyboard. I'd like to remind that Suffering Souls is a one man project and I think it's very successful on that. Do you have difficulty about that?
Of course Suffering Souls is very successful, especially in America and Europe. On account of the fact that Suffering Souls is not playing live we cannot reach a large part of the fans. By appearances we could be even more successful.
What are your plans about future?
There will be definitively more Merchandise article. For some weeks there is the new patch with the Suffering Souls logo and in some weeks there will also be a new T-shirt. The next Album will take up definitely not once again six years, I can promise this!

Thanks for your time. I make this interview with you because I like Sadistic Goat Complex very much. Is there anything else do you wanna say?
Thank you very much. To good last a GODFUCKING HAIL to all Suffering Souls fans. I also hope that you guy`s like the "Sadistic Goat Complex" album. If you want to hear to begin with the song "Resurrected Messiah" from the new album, visite our MySpace page simply. Don`t forget to watch the album Trailer… or get your Suffering Souls Shirt or Patch at the Schwarzdorn Homepage…
www.myspace.com/sufferingsouls6666