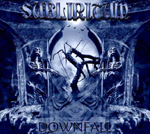 Battlegod Production / SSW – 2014 – Norway
The Norwegians SUBLIRITUM stroll since by now 15 years on dark Metal pathes. They put their third opus "Downfall" in March 2014 by the help of Battlegod Productions on the market.
Here is celebrated Black Metal. Pitch-black base frames, modern edited and composed. Very technical played riffs which bring along beauty and hardness at the same time. Packed in an aggressive, extremely professional doubleblast drumming and powerful bass-lines. The solis may be thereby quite melodic, epic-bombastic. Despite all loosening ups the dark basic tenor however always remains. By the change of tempi and melodic variations receives "Downfall" the necessary variety and energy. The mentioned variations are thereby very complex. You can even hear now and then Death Metal and Thrash Metal elements. The dark vocals of vocalist Jonas Moen yet put the final touches to in terms of hardness. You realise here on each note that professionals were at work who know their craft. A pretty good Black Metal album in the year 2014 was the outcome. Here is buying duty!!!
8,8/10