Reviews
SUBLIMINAL FEAR "One More Breathe"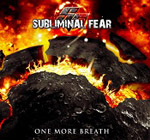 SG Records – 2012 – Italy
Long time passed away that I listened a band from Italy, last year I listened lots of bands from there. Subliminal Fear is formed in 2001 and released a demo in 2005. They released their first full-length in 2007, after 5 years they turned back with a new album this year.
Subliminal Fear plays Swedish melodic death metal with some German thrash metal influences. Professional compositions supported with succesful guitar solos, and some synths made their style modern. Production is welldone, especially I like drum tones. Brutal and scream mixed vocal used – standard melodic death metal vocals – , and sometimes you can hear clean vocals, this sounds modern too.
An album must be listened by melodic death metal fans who like the music in modern way. Check it!
8.5/10