Reviews
Straight Hate / Speedy Gonzales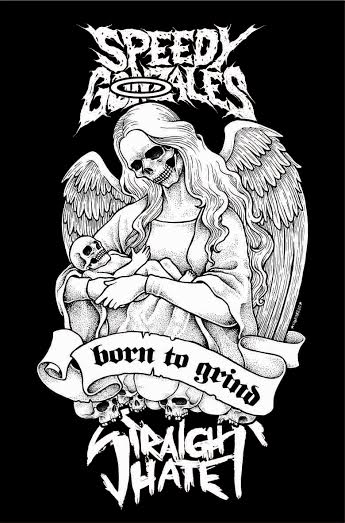 Recently I obtained knowledge of an Indonesian / Polish collaboration. There is talk of a split tape of SPEEDY GONZALES and STRAIGHT HATE which was released in September 2014 in in-house production.
Let's get right into it with SPEEDY GONZALES. Their music is fast, straight and with no holds-barred. Extremely fast riffs which doesn't fail to have the desired effect by its simplicity. Straight in the face and without any folderol played Grindcore which comes in hard and primordial. You can hear and feel rage, aggression and ravenous energy in each note. The nagging growls do one last thing to steadily retain hardness and to vary it.
STRAIGHT HATE also play Grindcore. But you can also hear small Death Metal speckles now and then. These do no harm to the songs. To the contrary: They reinforce brutality and hardness and give the band their own identity. Here is also not economized on speed. Therefore the neck muscle has no peace of mind. Snotty, dark growls put the final touches on it. A bit more multi-variant played they give everything at the all in all four songs in order to maintain aggressiveness and urgency the entire running time.
All songs are kept relatively short which is in dire need because of the intensity and fastness of the songs. I think, it's a very successful raw opus. Who is into straight, harsh Grindcore sounds should gain the split cassette by all means!!!!
8,8/10