Reviews
SPITFIRE "Time and Eternity"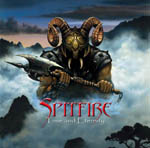 My Graveyard Productions – Italy – 2010
While I was investigating on the band's history, I was suprised learning that the band existed since 80s. After a rest for 25 years, they reunited and recorded a new album, it should be tough for the members providing that changes in the music, styles and scene.
About the quality of the band, they are successful, have a style of 80s glam, heavy metal, not so striking but vocal is really good,I want to say that it is good for us they defy the years and record that album.
In the album, there are ballads besides active songs. One of that songs is "Black Widow"… Vocalist Giga made a freat job on this song.
Tempo is getting high in the last parts of the album, to sum up, album is to be bought, to be listened to and to be hid, heavy metal fans shouldn't miss that!!!
8/10