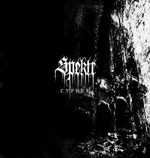 Agonia Records – 2013 – France
SPEKTR are from France an will soon release their opus "Cypher" via Agonia Records.
Thereby they are definitively no average band. You can pick out this pretty fast. You can hear here very avant-garde sounds. Pitch-black musical basic frameworks set out for new frontiers. Partly making leeway in the Noise area "Cypher" gets along quite without vocals. Nevertheless the cd is at no time boring or even verbose. The production receives variety and dynamic by the change of single music genre. Thereby is also within a song alternate strongly poached in the Industrial and Ambient area. Sound collages round off the individuality. Which perhaps reads pretty adventurous and unstructured receives while repeated listening structure and a certain order within the mess. The listener is abducted in transcendent worlds. SPEKTR are very innovative and offer the listener to experience new musical worlds far from the other dark mishmash. "Cypher" is a very extraordinary cd which I can only recommend!!!