News
Sotajumala – Deathchain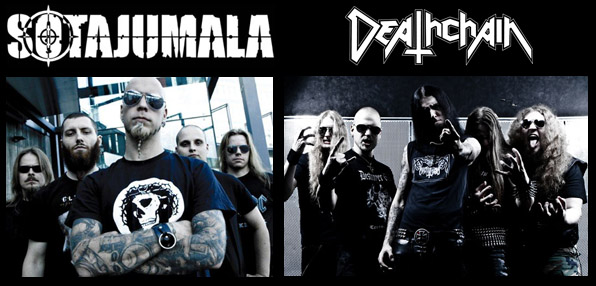 Two Finnish extreme metal groups, Sotajumala and Deathchain, smashed their heavy heads together and will release new material on a split CD. "Sotajumala / Deathchain — Split" –EP, released on April 28, will consists of one new song and one Iron Maiden cover song from each band.
Sotajumala (Jyväskylä) and Deathchain (Kuopio) are both preparing their new albums. Sotajumala has just finished the recordings of their album, which will be released on May. Deathchain's fifth studio album will be out on autumn 2010.
The split EP will have a new Deathchain song, which will be also found on their forthcoming album, and a cover version of Iron Maiden's "Purgatory" with Tommi "Tuple" Salmela from Tarot on vocals.
"We've talked so many times about releasing a split with Sotajumala. The project was, as far as I remember, based on the fact that both bands respect Iron Maiden over everything, and we wanted to make a tribute. I'm very happy with our version, and I've heard a lot of worse ones," says Corpse, the guitarist of Deathchain
Sotajumala's new song "Sinun virtesi" continues the style of "Teloitus" album, and will challenge both listeners and performers with their technical but catchy death metal onslaught. The cover version of the legendary British band's song will be sung by – who else but its original singer, Paul Di'Anno.
"We asked Paul if he was interested, and Mr. D was like "Why not?!" That was surprisingly easy! I could have never dreamed of waiting for a new single that will have a Maiden cover song, especially sung by the original singer himself!" wonders Mynni Luukkainen, the singer of Sotajumala.
"Sotajumala / Deathchain — Split" –EP track listing:
01. Sotajumala: Sinun virtesi
02. Sotajumala: Prowler (Iron Maiden cover)
03. Deathchain: The Crawling Chaos
04. Deathchain: Purgatory (Iron Maiden cover)
www.sotajumala.com
www.deathchain.com
www.cobrarecords.fi