Swedish Death Metal legends SORCERY have inked a deal with XTREEM MUSIC for the release of their second full length album. Formed back in 1985 and thus being one of the very first Swedish Death Metal bands, they released three demos in '87, '88 & '89, a 7″EP in '90 and an already classic album in 1991. The band split up in '97 and reformed in '09, recording two more demos before signing to XTREEM MUSIC.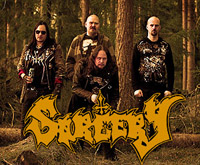 SORCERY is currently working on their new album, over 20 years after their debut. Still untitled, it's being partly recorded with Tomas Skogsberg at Sunlight Studios, the same studio used in 1991 with "Bloodchilling Tales". Seven out of the nine songs on the album are brand new, written with the latest line-up consisting of original members Ola Malmström (vocals), Paul Johansson (guitar) and the two new members, John Falk (drums) and Mikael Carlsson (bass). The other two songs, "Master of the Chains" and "Maculated Life" were written during the bands earlier days and will perfectly link the old material with the new.
Cover artwork for the new album is actually being drawn by renowned artist Daniel Devilish while the recording will be finished around November for an expected release in January 2013 on CD with vinyl version later on. In the meantime you can actually listen two new songs featured on the band's "Warbringer" pre-production demo 2012 which are being re-recorded for the album with better sound, production and arrangements, will serve to hear what's coming!!