So from peeking around the internet, you played in several bands, but I see you still in a band and you play guitar in it. The band is called Black Curtain. Tell me all about them and did you form them or did you join them? Does the band have any releases out?
GB: I haven't played much in the last 5 years or so. Involved in other things, I guess. Black Curtain was kind of a Soothsayer spinoff and was formed by three former members. Bryant Ward, Shane Christensen, and Myself. Eventually, after working with another vocalist and drummer, we decided to have Shane do the lead vocal and write the lyrics. Shane is a tremendously talented lyricist and vocalist. Shane has two sons that were very good musicians, so we added them to the lineup. Brendan (Guitar) and Daniel Christensen (drums). We did put out a full-length CD called Apocalypse Rising. It can be found on CD Baby, Spotify, iTunes, and Amazon. I am very proud of this effort. It was recorded at Steampunk Audio Labs. Engineered by Casey Weaver. Other contributors to the project early on were Sean Lusk and Christopher Caminiti. A few years after the Album, we got back together to record a couple of songs that we had but were left off of the album.
Now we are gonna go back in time ha ha. Where were you born and where did you grow up? What sort of kid were you growing up?
GB: I was born and grew up in the Valley of the Sun. South Scottsdale, AZ was my stomping ground. Basically, a native resident of the Valley to this day. Some other metal bands had several members come out of the neighborhood. Sacred Reich and Flotsam & Jetsam were two for sure.
What did you do for fun way back then?
GB: Baseball was my first love. Loved the game and every spring was like Disneyland to me with MLB spring training within walking distance from my home.
Now when did you 1st start to discover music? Was it on local radio or did a friend introduce you to let's say rock music?
GB: I had two older brothers that were moving out on their own shortly after I was born. They left behind early rock & roll 45's that I used to spin on our large console record player. Elvis and that kind of stuff. My father passed when I was 8, but I still have memories of him playing classical music on the weekends.
Now what were some of the early rock n roll bands that you discovered? Are you still fans of any of those bands today?
GB: The first album I ever owned was Alice Cooper Killers. The first album I ever bought with my own money was Alice Cooper's Billion Dollar Babies. Loved that album and still do. Thin Lizzy Jailbreak, Ted Nugent Double-Live Gonzo, and Sweet Desolation Blvd were all big influences early on and into my early playing days. I really got into the progressive stuff like Yes, Rush, Zappa, and Floyd. There was a freedom in that music that you couldn't get else ware. Jimmy Page was also a huge influence.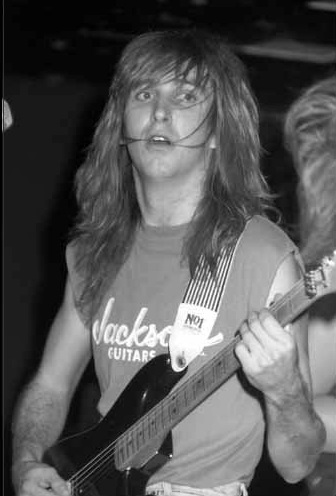 Now how did you discover metal music? Was it through a friend or hearing a certain song on the radio?
GB: I just played what I liked. Metal was just one of those things. The British wave in the 80's was a big influence, but it was just what everyone was doing.
Now let's head over to the underground metal side of things. How did underground metal rear it's ugly head ha ha into your world? Was it something you immediately took a liking to or did it take a few listens and you were hooked in deep?
GB: When I started to hear some of the speedier stuff like Metallica and Megadeth, It opened that freedom avenue that I missed from the progressive stuff. That is really what inspired the Soothsayer to write to me anyway.
So now what led to you deciding to pick up a guitar? Did you ever think to play the drums or play the bass or even sing?
GB: I had a friend that had been playing for about a year that was forming a country band that did very well. I went and saw the first rendition of Mogollen practice. I really thought that looked like fun, so I asked for an electric guitar for Christmas when I was 15. I got a knockoff Strat and started to make noise mostly. Ha Ha! I ended up saving and got a real Fender Strat and a deluxe reverb amp the next year.
Did you ever take any guitar lessons or were you self-taught? Who are some of your favorite guitar players?
GB: Yes, many lessons and a couple of years of music at the community college. Steve Howe, Jimmy Page, Steve Vai, Eddie Van Halen, and Alex Skolnik.
So how did the coming of the Soothsayer come to be? Did you know any of the other members personally before the 5 of you got together?
GB: Bryant Ward was a very good friend and also was my go-to guitar tech in previous bands. His nickname was Bryco. He worked for a lot of guitarists. Bryco was the original bass player in Soothsayer.I was working at a record store and Steve Parsons came in. He was a big dude with long blond hair, and I remember a chunky big gold ring on one of his fingers. We got to talking and he was a vocalist looking for a band and we seemed to have similar interests. I was in limbo, so we met with Bryco and started working on some of the music that I had written. Steve started writing lyrics and that was the beginning. Steve knew a drummer named Armondo Nunez. (Mondo) He had a punk-sounding influence on the group and he also liked metal. We played as a 4-member group for a while and then added Dave Cornwall on guitar. Dave really filled out the sound.
Now to backtrack a bit, were there any cool local record stores that stocked indie metal from labels like Metal Blade, Combat, etc? Did you guys know about tape trading, college radio, fanzines, and stuff like that?
GB: I remember Metal Blade being in several including the one that I worked at called Stone Records. Zia and Tower Records were the big 2 out here in AZ. I wasn't really into the collecting side of things much back then.
So how did you go through many members before you got to the line-up which would record your debut demo "We Came For Killing" in 1987? What were the early practices like for the band/ Did you mess with any covers or was it originals right away?
GB: The folks I mentioned above were that lineup.
Now how did the writing process go? Who did what? How fast did the coming of the songs for your debut demo come together?
GB: I wrote most of the music and Steve, the lyrics. The others all contributed riffage here and there. I traded solos with Dave and he was all his own.
How long were you in the studio? Now the demo, was it released on a blank tape and you just dupped them on a tape to tape? Did you send them out to zines and radio stations? What sort of feedback overall do you remember getting?
GB: I really can't remember how long exactly, a couple of weeks I suppose. I think it went from reel to VHS digital to tape cassettes. I wasn't involved in that part of the process. We did get some local radio play on late-night metal shows and such. There were a couple of local mags that featured stories.
Who came up with the name and if you remember the logo? Did you know at the time of the Soothsayer from Canada? Did they ever contact you during the band's existence?
GB: Bryant Ward came up with the name. He said that he found it in the glossary of his bible. I am not sure which Soothsayer came first. We did hear of them, but we were well into the thing by then. Never heard from them.
What do you remember about your 1st show? Who was the first national act you played with?
GB: First show was a kind of underground punk party with a band called O.N.S.. I could be wrong, but I believe the first national act was with Exodus at the Pleasures of the Flesh Fest festival. It was at a club called Studio West in Phoenix, AZ. We were one of several bands on that bill.
Now in 1988, demo # 2 came out called "One Foot in the Grave". You also had a new drummer, Mike Sversvold. How did you find him and what happened with drummer Armando Nuñez?
GB: Actually, Mike was a mentor to Mondo. Mike had been around the punk scene since he was a kid. He was the original JFA drummer. They were one of the early American punk bands. So Mike was pretty well known around these parts. I haven't heard from Mondo since 1990 or so, but I do know that he was going to school and taking drum-related college courses.
Now in 1988, thrash was pretty much at its peak. Would you agree with me? Did you feel with demo # 2, you as a band, would need to step it up a bit as far as songwriting and such? Did you guys at all, when you were in the studio, send this 2nd demo out to record labels? Did you ever send any of your demos to record labels and if so what was the response if any?
GB: We got good feedback from labels during the duration of sending out all our demos. MCA and Warner Bros were two big ones. They wanted more material though.
Now I know Phoenix; AZ had a solid scene as you had Atrophy and Sacred Reigh getting signed to deals. How was the scene back then? Were the shows crowded and did you guys and other bands have regular places to play? How far outside AZ did you ever get to play?
GB: Don't forget Flotsam and Jetsam. They also were from my hood. Jason Newstead came out of that band to join some other big metal band. Haha! The scene was amazing. Always something going on. We did play through Texas with Sacred Reich and Forbidden. We did a show in Riverside Ca as well, but nothing major.
Now demo # 2, looking back, did you feel it was a big step up or a step back or just more of the same? Did you feel with a new drummer that the songs and just being a band together longer now,
GB: Adding Bam to the lineup made a big difference as he already had a pretty good resume. Being one of the original punks was a big plus. JFA was I think it was a step up for sure. Both of those things helped. Adding Bam Bam gave us a new feel and yes, writing was getting better with time. Adding Bam to the lineup made a big difference as he already had a pretty good resume. Being one of the original punks was a big plus. JFA was one of the originals.
Now the band's bio that Thrashback sent me, gave me an impressive list of bands you played with. I'm gonna rattle off a few and you tell me what you remember about playing with them:
Celtic Frost: I am embarrassed to say that I honestly do not recall. Not saying it didn't happen though..lol. So many shows and that one doesn't ring a bell for me.
Megadeth: Loudest crowd reception ever. The only time I could ever hear crowd noise on stage over our full volume. That was a rush!
Lastly Slayer. Sometimes opening acts don't get treated very well. What tour were they on and how did things go? Did you get a solid and good reaction from the crowd?
GB: I believe it was the South of Heaven tour. We were told that opening for them would be good publicity for us. I remember the night before the show we were sitting around our practice pad and the news happened to be on the TV. Evidently, there was a riot at the Slayer concert in LA at the Palladium. Fans broke through the glass doors or something. At that moment we realized that we may be in for some crazy antics to come. We did well. There were a couple of bad actors in the crowd, but for the most part, everyone was moshing it up. Slayer, however, had an incident with a bouncer hitting a crowd surfer and a bass inadvertently hitting said bouncer upside the head. We were out back doing an interview with some LA mag and this big dude came flying out the double doors and an army of others trying to toss him out. The music had stopped and the whole crowd was chanting riot. It was a bad night for a lot of people and the club never had another metal show again. Slayer did return and finished their set.
Now did you at any time have any type of manager helping you book shows or trying to contact record companies or were you doing this all on your own?
GB: Brad Laughlin was our manager. He also was the owner of Top Concerts. He booked most of the metal acts coming through town.t until they got too big and started playing arenas. This was a huge plus for us as we could get on the bills and save him money as well. A win/win for sure.
So now did any of the indie labels at the time offer you any type of deal, even if it was to appear on a comp release or whatnot? Did you guys ever think of signing with one of the smaller labels like Wild Rags, New Renaissance Records, or one of the smaller labels out there that were around at the time, or was you're thinking more along the lines, "No we want to be one one of the bigger indie labels?"
GB: We probably should have, but it was the bigger labels that Brad had contact with.
Now demo #2, were they also done dub-to-dub on those big-time popular dual cassette decks that everyone had back then, including yours truly? Was lots more mail piling in at this time and were you getting great feedback from local fans as well as fanzines and the like?
GB: Yes, we had a few write-ups and people really seemed to like us because we were not the mainstream kind of band.
In 1989, came your 3rd and last demo called "Alpha Omega". What was the morale of the band during the recording of this, if you remember? Did you guys feel this was going to be the demo that finally got you signed as even in 1989, thrash was still strong, with some even on major labels (besides the big 4) at the time?
GB: This was the most polished recording of the three. We had the experience now and I really felt that this should be the one to get us signed to a label. We had gone through another change with a new bass player. Shane Christensen was in and contributed to some of the writing as well.
Do you feel your sound changed much over the recordings of the 3 demos? So now was this one pro done cause I couldn't find a copy of the cover? Around how many of these do you think you sold?
GB; A little raw in the beginning and more polished by the 3rd demo. I am not sure about the cover. I guess we never made one.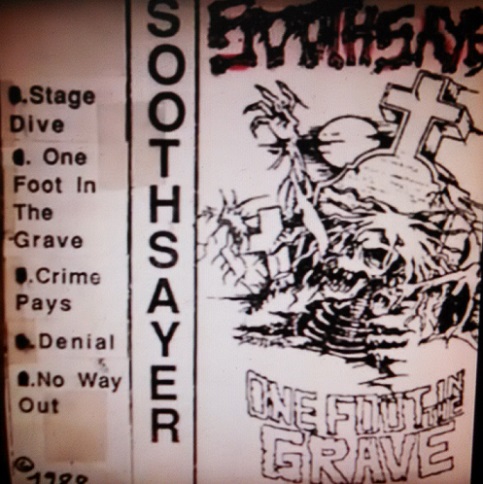 Did this release get sent out to any record companies? Was their interest, but you didn't think the contracts were fair or there was and for some reason or another, you decided not to sign with them? Please any stories you like to share about this time, the floor is yours.
GB: I plead the 5th. Ha! No, I am not sure how many got out to labels. It wasn't my chore so to speak. I do know that Jason Newstead played it for EVH backstage at the Monsters of Rock tour. His response? "Sounds like an 8-track" lol. At least that is the story that I got. I remember getting feedback from MCA and I was told we also got feedback from Warner Bros. Both wanted to hear more material. I can't remember which demo that was though.
How big would you say the local scene was around this time? Were shows pretty crowded and did national bands (not arena bands) always make their way into town pretty much?
GB: Oh yes! They all came through and we got to play with and or meet most of them. Thanks to Brad! I remember playing the demo for Joey Belladonna of Anthrax and him going through the songs and picking out how he would have approached them differently than our singer did. He really did like the music though. We spent an entire evening going over things. That was very cool! We had a party at our rehearsal studio for Testament and they did a few songs on our instruments. Skolnik was my hero at the time, so to see him on my axe was a dream come true for me. So many stories.
Now what led to the band's breakup? Was it mostly not getting a deal after putting out 3 demos and seeing other bands getting signed while you were without a deal? Was there much fighting within the band prior to the break-up or was it a decision among the band members?
GB: Steve was the financial backer and when he became ill, things went south. We tried to reform with Shane doing vocals under the name Third Power. That only lasted two shows and I decided to take another route and tend to my new daughter and Wife. Music was no longer my focus and I moved on. The band kind of went their own ways at that point. Things just weren't the same without Steve.
How did it end for you personally? Were you really hurt by the band breaking up, or did you feel it was time to move on to something new?
GB: It did hurt. The sky was the limit for us. I was a victim of circumstance and tried to continue, but it just wasn't the same without Steve. However, looking back, I really wish Third Power would have recorded it because that was some heavy stuff!
So now after the demise of the band, did you still talk to any of the former members and was there any talk over the years of reforming the band? Were there any unused songs you guys wrote or after demo # 3 that was it
GB: We reformed as Third Power for a while with Shane doing the vocals. It was the heaviest band I was ever in, but the magic was gone for me personally. My life changed after that. I moved on from music for a good while. Married and raised a family etc…
Now after the band broke up, the internet started to get big and stuff. Did you ever look on sites like Ebay to see how many copies of your demo were going for? Do you still have original copies of all 3 demos?
GB: No, I never looked for that. I only have the digital copies. (CD)
Now over the years, even while even in other bands, did people ever come up to you and say something to the effect that "Soothsayer was a big influence on me" or that "because of you I picked up the guitar" and stuff like that?
GB: Yes, I could name a few. Example: Willey Arnett is the lead guitarist for Sacred Reich. He once told me that exact thing. I am flattered by this because he has accomplished so much with his playing and is a damn good guitarist. I gave lessons on the side back in the 80's. I had a few others on that list.
Did you ever see any live shows of the band on You Tube over the years speaking of live, do you think you're a good live band? What was a Soothsayer live show like?
GB: I don't think any of the filmed recordings made it. We were always better live. So much energy! If only I could have bottled it. Lol!
Now did you re-connect with any of the former band members or even fans through Facebook?
GB: Yes. Forever bonded.
Now how did you find out, which happened in 2019, the death of your former singer "Steven Parsons". What was Steve like as a person as well as a singer? How hard did death hit you at the time? The floor is yours.
GB: Steve was the man! Everything he touched turned to gold. He was an all-state football player in Texas and homecoming king. He had everything going for him. Great stage presence and knew how to have a great time. He was the financier of the band. He also wrote all of the lyrics. I had not seen him in many years after Soothsayer until he came to a Black Curtain show about 6 years ago. He was having issues walking and had a cane with him. He still had that same magic though. News of his death was sudden for me. It hit me pretty hard.
Now in 2021, Steven's brother, Damon, contacted "Thrashback Records" about them possibly releasing the band's (Soothsayer" 3 demos onto CD. Did you know anything about this at the time and were you involved at all in seeing this release see the light of day?
GB: Yes, Damon is an amazing dude and I have much respect and gratitude for all that he has done for us. This release would have never happened if not for his efforts. Damon was also a big influence on us putting Black Curtain together as well. He had my blessing from day 1.
How proud do you think Stephen would be to hear his voice on a CD finally?
GB: He would have been so proud of everyone.
I assume there were no other songs, even live ones as the CD just contains the 3 demos. I just a copy of it the other day and I love it. If you have a copy of it, I'm sure you do, what is it like seeing something you did over 35 years ago on a CD?
GB: If you asked me to play those songs, it would take some time to even come close to doing it today. It has been a long time! I am so grateful that of everyone's hard work has been preserved for eternity!
Now besides the Soothsayer from Canada, I see there is one from Texas as well now. Will there be a Bandcamp or Facebook page for the band at all?
GB: Not a bad idea. Maybe someone should do that.
George horns up for doing this fantastic interview about the band. I'll put all the ordering info below. Any last words to wrap this up?
GB: Thanks for hitting me up and sorry about the time to return my assignment here. Haha! If this music touches one person and makes their day a little better, then my mission is complete. May the music of the past inspire new and exciting music for the future.
CD ordering info:
https://thrashbackrecords.com/products/soothsayer-az-we-came-for-killing-1987-1989