News
Sonic Blast Media Compilation
Singapore – Independent music label, Sonic Blast Media, will be releasing a new music compilation entitled UNDERGRCOUND SOUNDS Vol. 1 on 1st October 2012.
UNDERGROUND SOUNDS will feature an array of metal genre bands from all over the world, and can be downloaded for free at
www.sonicblastmedia.com
Bands featured on the debut release will includes: legendary Vedic metal pioneers, Rudra, Predatory. Inverted and many more.
For a sample of UNDERGROUND SOUNDS, check out a track from Jahiliyyah, from Bangladesh, with their track 'Mass of Materia'
here
.
Tracklist: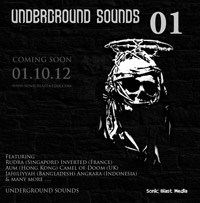 01.Sanity Obscure – Hyperboreas
02. Warclouds – Impetuous Wrath
03. Inverted
04. Zushakon – Vortex of Devoured Souls
05. Angkara – Ambang Kematian (Threshold of death)
06. Predatory – Butchered Truth
07. Camel of Doom – The Anger of Anguish
08. Dei Tetra – Viper's Den
09. AUM – Temple
10. Jahiliyyah – Mass of Materia
11. Absence of the Sacred – Enslave Fire
12. Trendkill Method – We Both Know
13. Rudra – Incredulous Void (Live)