German thrash metal band SODOM's new digipack "In War And Pieces" will be released in North America on January 11, 2011 and in Europe on November 22, 2010 via SPV/Steamhammer.
CD 1: the studio album
CD 2: bonus live CD (Wacken 2007)
16-page booklet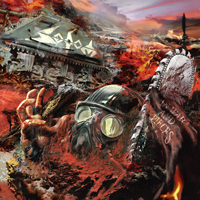 Tracklist:
01. In War And Pieces
02. Hellfire
03. Through Toxic Veins
04. Nothing Counts More Than Blood
05. Storm Raging Up
06. Feigned Death Throes
07. Soul Contraband
08. God Bless You
09. The Art Of Killing Poetry
10. Knarrenheinz
11. Styptic Parasite
The "In War And Pieces" track is available for streaming on the band's MySpace page.