Skelethal is an awesome death metal band from France and just released a new album called "Unveiling the Threshold" on Hells Headbangers. I hooked up with band member Gui Haunting for this chat:
 Where were you born and where did you grow up?
Gui Haunting: Born in Paris, grew up in Lille.
What sort of kid were you growing up? Did you have many friends and what did you want to be when you were growing up?
I am the older of four boys, I was an athletic child playing many sports: roller, football, tennis, hockey… got many friends and wasn't really thinking about what I wanted to be in the future.
Now what sort of teenager were you? Did you have many friends and were you starting to get into music at this point?
 Yes, I had good friends, never had a problem with that in the past. Yes, I was starting to get attracted by music.
 How did you discover rock music or metal in general? What were some of the first bands that you heard? (we will get to the underground next-Chris)
 In my family, there is no musician, but my uncle listens to metal since the '80s, I discovered music with metal when I was around 14 years old. Knowing that my uncle gave me good albums to listen like Blizzard of Ozz, Ride the Lightning, Show no Mercy, To Megatherion…
 Now how did you get to discover underground music? What were some of the first bands that you heard? Was this music something you got into right away or did it take a few listens to really get into it?
I was addicted to metal and always searching for new bands to listen to. That's how I began to discover underground bands. I've always been attracted to bands from the '80s, and that's still my favourite era in many genres.
 Now, what event or events made you want pick up and instrument? Why that instrument and not another? Ever take lessons and who are some of your favourite players?
Listening to Randy Rhoads solos was the event that made me want to practice the guitar. I choose guitar because I think it's classy and because I love the sound. Never took lessons, my favourite players are:
Dave Mustaine and Trey Azagthoth.
Now when did you decide you wanted to join or form a band? I know a few members were in some other bands, but how did the coming of Skelethal come together and how hard was it to find the right combo of members?
After jamming in my room with friends we decided to start a Crust band that was my first band. Years later, Skelethal started as a side project of a thrash band I joined (Infinite Translation). I met Jon who was the bassist joining them, and we decided to jam death metal after Infinite Translation rehearsals. We worked together in Skelethal for 6 years as a duo with live members, and in 2018 I split with him and recruited a full line-up. Lukk who was the live guitarist for years joined the band we found pretty easily Lorenzo (drums) and Julien (bass) to complete the line-up.
 I am gonna assume singer/guitar player Gui Haunting is doing this interview. If others are they can chime in when I get to a question that involves them. Now in 2012, you released a 4 song demo with a Sepultura cover of the tune "Show Me the Wrath" with just one other member (drummer/bass player Jon Whiplash who was in the band from 2012-2018). Why that particular Sepultura tune?
 Because it's one of our favourite band ever and we had a crush on this particular song due to the killer chorus + it was pretty easy to cover despite our limited skills.
 Now, did you guys at the time have trouble finding other members so you 2 decided to just do it on your own? Or was it more of a not so serious band and the 2 of you just released the demo to see what kind of response you would get?
Yes, in the beginning, it was just a side project to have, after Infinite Translation split we concentrate on Skelethal and thought it would be easier to write music only together, to avoid compromises.
How was the overall response to the demo and did you guys just hit the studio and bang out those 4 tunes right away? What are your thoughts on the demo these days?
The response was good and we were asked for represses. We recorded it ourselves just for fun. I don't listen to this demo anymore haha.
 Now how did you come up with the name and were any other names thrown around?
We wanted a one-word band name, I remember finding the word Skeletal by reading lyrics and Jon had the idea to add an H after the T.
 In 2014, Caligari Records re-issued your demo on a split cassette with the band Inisans. How did that come about?
They asked us, we found the idea killer and agreed.
We also saw an EP released by Iron Bonehead Productions called "Deathmanicvs Revelation", which included a cover song by the band Sacrilege "A Violation of Something Sacred". Why them and why that song? How did you end up hooking up with Iron Bonehead for this release?
We were searching for a label to press the Ep on vinyl. IBP were the only one really in, so we agreed.
Sacrilege is a band we love and we thought it could be killer to play it with a Death Metal voice.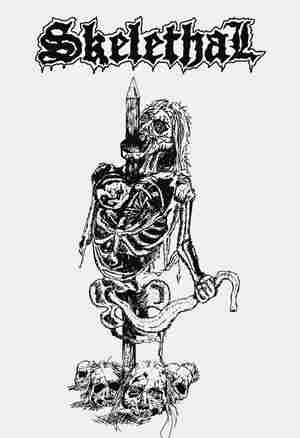 It also featured just the 2 of you again with Gui doing all the singing on this one. Was a decision at that time that Gui would be singing all the songs from now on? How was the response to this EP and do you think this was a step up from the demo of 2012?
 We didn't really take that decision, I sang on my songs and Jon sang on his songs. Since I wrote more songs I was more at the vocals. Despite the shitty sound and the bad playing the response was good haha, not a big step from the demo in my opinion.
The both of you didn't waste any time as you released a 2nd EP on Iron Bonehead the same year called "Interstellar Knowledge of the Purple Entity", which featured yet another cover tune, this time a Carnage song called "Torn Apart". Was this just a decision to play and record cover tunes of some of your favourite bands on these recordings? How was the response from the metal underground to this release?
Yes, we decided to continue to put covers to show our influences. I think this release was a step up for Skelethal and the response was even better.
 At this time, were you guys looking to add more band members with the hopes of maybe playing live and taking the band further than you were at the time cause Iron Bonehead is a pretty known label in the metal underground to a point?
Yes, we definitely wanted to reach the stage.
 Would you say you were starting to find the "Skelethal" sound so to speak by now as you had a few recordings under your belt?
We were beginners in recording/engineering but we wanted to make everything by ourselves, we learned from every recording.  We mainly wanted to sound like Swedish old bands.
 In 2015 Pulverised Records put out a 21 song compilation called "Morbid Revelations". Was this easy to work out with them considering you had 2 prior EP'S on Iron Bonehead Productions? How was it for you to see all your tunes pretty much on one CD for everyone to enjoy?
We thought it would be cool to finally have a cd, a compilation with all our tunes was a great idea. We ask Pulverized and they were okay. They were really easy to work with and very kind!
In 2017, you released your first full-length release on the great Hell's Headbangers Records over here in the US, which also included, not surprisingly haha a cover tune. This time you took on Dismember's "Soon to Be Dead". I don't have to ask why that band haha. Now how did you being based overseas hook up with a US label to release your 1st full length?
We didn't want to work again with IBP for good reasons. We asked a few labels and HHR were into work with us for the 1st album. I was very glad about this news!
Now how easy was it for the 2 of you, at the time, to put together these songs for this release? Did you go to a new studio for this release or go to one you had used in the past? Now why the title "Of the Depths" and who did your cover of this release and who did the band's logo?
 I worked very hard to write the songs of this album, it was a long process. We again recorded, mixed and mastered by ourselves in our rehearsal room. Of the Depths refers to a creature/entity living in the ocean's depths', soon to be revealed. Jon did all the artworks and logos until 2018.
 Now had you ever by this time played live by using live musicians or was it up to this point just a studio band?
 We were just a studio band until April 2014, we played our first gig in Nantes (Fr).
 In 2018, you did a split 7" with the band Cadaveric Fumes on Hell's Headbangers. Tell me a little bit about your 2 song contribution on this release and how quickly did these 2 songs come together or were these songs leftover from the recording of the full-length release?
No they were not leftover from Of the Depths…, the first one ''Emerging from the Ethereal Threshold'' was on work for a few months and I wrote the second one ''Torrents of Putrefying Viscosity'' for this record.
Now during this whole time, the band had been around up until this point, how had the scene changed over in France? Was it better or did it get worse?
We were not old enough to see how the scene evolved. We were just glad to play as many gigs as possible. What I can tell now is that it's more difficult to find places to play nowadays, the scene seems to be kind of the same years after years, only a handful of involved people who try to keep it strong.
 Now band member Jon Whiplash left the band before the recording of your next release. What happened?
Jon moved to another region of France. Too far to continue the band seriously. Since he had let me lead everything in the band for years, I thought it was normal to continue on my own, keeping the name for me.
He understood that at some points and let me go with the name.
 Now in 2019, you guys released a demo. Why did you release a demo after working with Iron Bonehead, Pulverised Records, and Hell's Headbangers? Was this because you had new members in the band and you wanted to test the waters with them via a demo release? How did you find Lucas, Julien, and Lorenzo to join the band?
This demo was recorded to present the new members, show that Skelethal was still active and writing new material.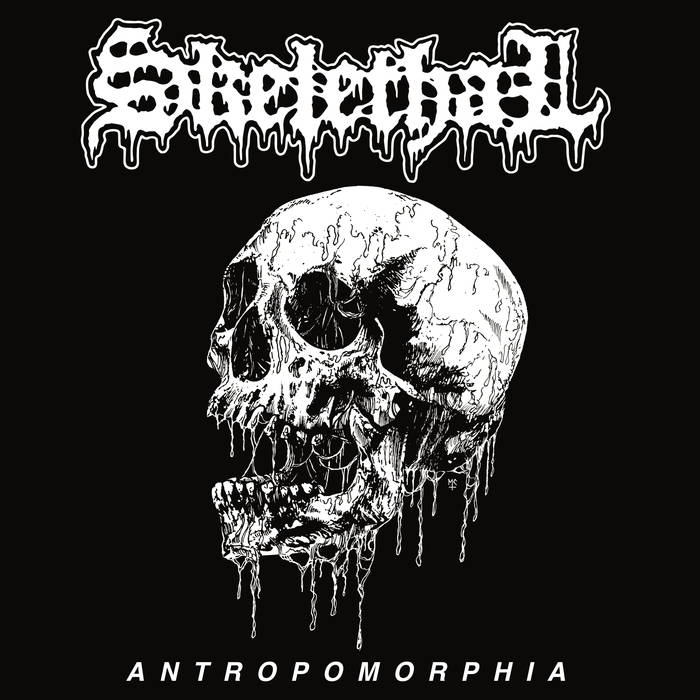 Now per what you have in the past, another cover on this release, a Terrorizer tune called "Fear of Napalm". Why this particular tune by this legendary band? What was the response to this demo and the new line-up?
 Our new drummer's (Lorenzo) drumming style is really influenced by Grindcore, Julien (bass) is also a big grindcore fan we thought it was a good song to cover since Terrorizer is a big influence for everybody inside the band. The response was again very good, and people liked the new line-up even more than the previous.
 Were you able to play live with this line-up at all and if so, how did that go?
 Yes, we did around 20 gigs with the new line-up in 2019 and Skelethal is definitely more solid and aggressive than ever.
 Now out of all your cover tunes, the band has done so far, do you have a particular favourite and is there any you are not so fond of?
I like all of them, don't have a favourite one on record, but my favourite to play on stage is definitely the Terrorizer cover!
Now we come to your new release. A full-length release and your back on Hell's Headbangers with a release called "Unveiling the Threshold". How did you come up with this title and the cover art for it?
I first had the idea of the cover in mind, the name of the album directly refers to it. Eliran Kantor agreed in working with us as we wanted this artwork to be a real painting, not computer art. We asked him to represent a tormented landscape with monolithic monuments emerging from the boiling sea and a portal opening in the sky.
 I love it as it was the first time I have heard the band. Do you feel the band has grown from your 1st demo up to this new release? How has the early response been to this release?
 Yes, we are definitely far from the beginning in many ways. I can say without any doubt that songwriting is better and our playing too.  So far the response is incredible, beyond expectations!
Is there any difficulty in your eyes working with a label from the US and you're from overseas? Are Hells Headbangers releases easy to get over in your country?
No difficulty at all since they are very professional. Communication is good. They are well distributed over Europe and you can easily find their releases in smaller distros.
For someone who has never heard the band, what would you say you sound like?
Death Metal.
Do you think this covid virus is going to be with us for a while and may never totally go away, thus hurting the chance of ever playing live for guys and other bands?
I'm bored with this virus; nobody knows what to expect. We haven't played live for one year so far and we can't wait to reach the stage again to promote the album.
 How serious is this band and how long do you see the band being around now that you have a full line-up?
It's very serious, we work hard for Skelethal and hope to be around as long as possible.
How does the coming of a song come together and who writes the lyrics?
 It usually begins with riffs I write at home but a lot of things changed for this album. At first, being a quartet changed a lot of things. All the members brought ideas to improve the final result. I personally adapted my way of writing the songs in order to fit with Lorenzo's drumming style and skills which are awesome. Also, Lucas took part in the songwriting and wrote two songs and his solos. I'm in charge of the lyrics.
Best concert you ever saw and what is your favourite band and why?
Hard question, I saw a lot of killer gigs. Some of my best memories are Hirax, Megadeth, Judas Priest, Bolt Thrower, King Diamond… I don't have one favourite band, even making a top ten is impossible for me.
 Is all the bands material still for sale in one-way shape or form?
GUI: Yes.
 Please plug any websites or social media that you have.
Horns up for doing this chat and any last words the floor is yours.
 Thanks a lot for it! Cheers from France!!!