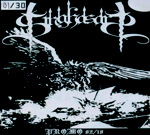 Demo – 2010 – Malaysia
There aren't many bands emerging from countries like Malaysia. Yes they exist, they don't get to us. But Singhasari sent us their promo to review it. Band's recording is demo recording and attack-recording. But performance isn't bad, we don't know about the conditions, but we hear it's tough to work in there.
Band's genre is raw black metal with some folk elements, sometimes it felt like Arckanum, not entirely of course. I liked the song Srivijaya, coming after the intro. It's a variable song. Sometimes with an ugly sound, sometimes epic riffs and sometimes Arckanum-like.
Short promo ends with Rajavali, it seems like it isn't finished. Probably band will agree with a distro searching for French, Peruvian or American bands and publish their albums… On the cover, there's a figure of mythologic eagle Rajavali, black and white…
Raw black metal lovers, underground fans, try to find this, you will like that.
7/10