Reviews
SEPTICFLESH "The Great Mass"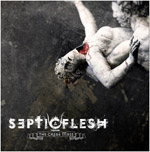 Season Of Mist – 2011 – Greece
From Greece comes some incredible metal, I have been impressed time and time again but I have to say that Septic Flesh absolutely tops them all. This band is amazing as well is their latest album, "The Great Mass". As they did with "Communion" Septic Flesh incorporated some 150 orchestral musicians and vocalists to participate on this project with guitarist Christos supervising to make sure everything ran smoothly. This makes the album so dynamic it's almost overwhelming. Female vocalists Androniki (Chaostar) and Iliana (Meden Agan) also lent their talents to this album.
"The Great Mass" begins with "The Vampire from Nazareth" which almost sounds like something from "Interview with a Vampire" with the haunting vocals coming in before there's just an explosion of Seth's harsh vocals. This combined with Fotis's insane drumming and the orchestra in the background it comes at as a wall of sound and slams you in the face but surrounds you with this beauty at the same time. Sotiris's vocals are something you hear from Dead Can Dance and gives this track even more ambience, like it needed it. "A Great mass of Death" is second on the album and it sounds like the end of the world is happening. With the double pedal drumming in the background, Seth's brutality hitting with full force and a full choir combined with it. Then, as if it wasn't enough Sotiris comes in along with Androniki and Iliana to add a sense of gothic ambiance, it's insane but so well done and structured that you are completely mesmerized.
"Pyramid God" has a great upbeat tempo with a mass of violins playing at a headbanging speed. "Oceans of Grey" is a combination of extreme force and a sense of calm. There is a perfect balance of chaos and peace that is hard to describe but Septic Flesh has managed to bring classical music and death metal together to make a force of darkness that can't be reckoned with.
"Rising" has some great guitarwork supplied by Christos and Sotiris as well some harmonic vocals supplied by Sotiris. "Apocalypse" is brilliant with the haunting orchestra hanging in the back while Seth sounds like evil is just oozing out of him. "Mad Architect" does sounds like an insane person is playing on the piano while the madness continues to spread throughout the whole track. Sotiris sounds great on the closer "Therianthropy" with his harmonies and compliments Seth's ferocity perfectly once again. I can't say enough about this album, it is absolutely amazing and you are nuts if you don't go out and pick up a copy of "The Great Mass"!
10/10