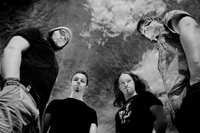 German extreme metallers SEPTEMBER MURDER have recently launched a full album stream of their new output "He Who Invokes Decadence".
The album was released on June 17 (Europe) and June 18 (worldwide) as an independent release. The follower-up to the debut long player " Agony in Flesh" (2009 – Maintain Rec./Twilight Distribution) has been produced by Jens Martinek at his Schmiedeberg 7 Studios in Rübeland, Germany and was mastered in early 2013 by Peter Neuber at Mega Wimp Sound Studios, Berlin, who has previously done work with NASUM, VOMITORY, PRIMORDIAL and WAR FROM A HARLOTS MOUTH. The artwork was done by Christian Herzer from GUULarts.
The band comments on their decision for an independent output as follows: "Contrary to all options we decided to release the album by ourselves and not drop back within the march of time. During the last years, times and conditions have changed enormously and the chances for young and free artists to release their works were rarely as good as they are today. In the end, we just want to keep making music and bring it closer to our fans."
Tracklist:
01. Under Severed Skies
02. Two Culprits, One Oath
03. Among Vultures
04. From Adoration…
05. …To Deterrence
06. May Conviction Force Reckoning
07. In Celebration Of Mankind's Wretchedness
08. He Who Invokes Decadence
Vocalist Oliver comments the lyrical direction: "'He Who Invokes Decadence' is more than just a classical death metal parole. The title of the album allegorizes the cry for the most aggressive form of human affection – charity. Man's abasement of morality and violation of borders between the societal credo and the implicitness of its forcible participation are essential topics of the lyrics on this long player."
After the withdrawal of bass player Guntar Elsaßer in 2011, the band found an adequate successor in Marcus Kühne (also known from German death/grinders METZGORE) and concentrated on finishing the song material for the upcoming album. The band concentrated on a more open conceptual work and a refined sound to overcome boundaries drawn by genre conventions.
According to a press release, SEPTEMBER MURDER's " After Every Setting Sun" EP (November 2007) drew the attention of the European press with its explosive sound that has been described as a mixture of CANNIBAL CORPSE, ENTOMBED and SUFFOCATION.