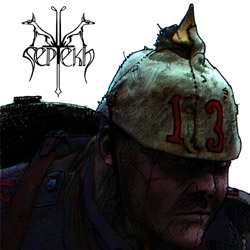 Abyss Records -2013 -Sweden
The Swedes SEPTEKH are no novices. Since already 2008 they honour the sympathetic Metal people. In April 2013 their by now third EP which is called "Apollonian Eyes" came out via Abyss Records.
The guys play Death Metal with a proper portion of dirty Thrash Metal. Straight, without detours, into the listeners' face. Energetic riffs which may once make leeway into the Thrash Metal area mingle with powerful drumming in the high speed area. This mixture gives the production hardness and brutality. Forceful bass lines as well as the distinctive shouting of vocalist Nils Meseke still reinforce and manifest the raw and native general impression of "Apollonian Eyes". The all in all four songs get across fresh and unconsumed and doesn't let miss the necessary hardness at any time.Very dedicated recorded I can only recommend SEPTEKH to each Death Metal and Thrash Metal fan! It's worth it!!!!