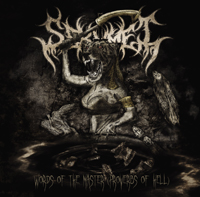 The Czech infernal legion SEKHMET is awakening again to its life after three years since releasing its last album "Opus Zrůdy" and this time it is far wilder and more dangerous! After ten years at the scene it is coming with a chain of penetrative changes which will introduce the new visage of the band.The new vocalist Lord Aegir vitalized Sekhmet´s composition and for the first time in the history of this band the texts are completely in English. Another change was made on the visual side which will be also presented on the graphics of the band. Nor the logo avoided the changes and it was re-designed by the master in his own domain- Christophe Szpajdel.
The year 2013 will be in the shade of "Words of the Master (Proverbs of Hell)" which is the name of the new album devoted to Ulvberth and Tronder Nefas,to both for personal friendship, favour and mutual respect.All music for the album was composed by Set and the second parts were created with the help of Warlord and Nekromancer, The texts were in the sphere of action of Master from the Swedish BESTIAL MOCKERY whose sinister vocal sounds in two songs.For the first time in the history of this band the clear backvocals will appear which does not mean that they will reduce the aggressiveness, contrary is the case!The album was recorded in Kavkaz studio thanks for which it gained the production and potential and it is unprecedential in the case of the Czech Black metal Scene.
"Words of the Master (Proverbs of Hell)" comes out on 1st July 2013 via Werewolf Productions as a CD and later also as an LP (in August)There´s no doubt that the new album will be a breakthrough not only by sound, music and graphics but it will also be the old honest blackmetal which will represent the new face of SEKHMET after ten years.