Reviews
SCAR SYMMETRY "Dark Matter Dimensions"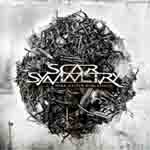 Nuclear Blast – 2009 – Sweden
Despite vocal wunderkind Christian Alvestam's abrupt departure last year, Scar Symmetry return with an album of new material that reintroduces the band—now including singers Robert Karlsson and Lars Palmquist–to an expectant fanbase. To our endless delight this "Dark Matter Dimensions" is anything but a rush job. Since album number one came out five years ago Scar Symmetry have proven they're one of the most dynamic bands in Sweden today; five years later their reputation remains intact for the fourth time in a row.
Building on their trademark alternating harsh and clean vocal duels amid a backdrop of crushing melodic death metal, "Dark Matter Dimensions" begins with an enormous guitar harmony that introduces "The Iconoclast." Once its flawless composition and majestic choruses from clean singer Lars Palmquist is done inspiring awe the band go for seconds with "The Consciousness Eaters." The music remains pure gravy until the ferocious death metal attack of "Mechanical Soul Cybernetics" buries the band's frills for a few minutes.
Being comfortable in their melodic skins Scar Symmetry return to dual form on "Nonhuman Era" and keep the good times rolling for the title track, then pull off mind boggling guitar pyrotechnics at "Sculptor Void." This is one of the best assets of the band: the guitar team of Jonas Kjellgren and Per Nillson who never fail to work wonders. Their take on the classic guitar duel are often heavy, groovesome affairs peppered with magical bursts of shred and technicality—naturally, results are often spectacular. This of course puts pressure on the rhythm section provided by drummer Henrik Ohlsson, who's the band's ideas guy for lyrics, and bassist Keneth Seil since they can't let the band down, so the two deliver the goods as well.
Stellar in every aspect, the music throughout "Dark Matter Dimensions" is as close to 100% consistency as the band could possibly achieve. Ignoring a coupla repetitive tracks, Scar Symmetry prove to the world they're a larger-than-life entity who will not be denied greatness. Just pick any of the songs here, be it "Noumenon and Phenomenon," "Ascencion Chamber," "Sculptor Void," the edge-of-your-seat thrill ride "A Parenthesis In Eternity" or "Radiant Strain"'s breathtaking twists and turns. A sparkling achievement, "Dark Matter Dimensions" can do no wrong. Fuck it, buy the damn thing already.
9/10