U.K.-based extreme metal band SATURNIAN will release their new album, "Dimensions", on August 24 via Indie Recordings. The CD was produced by Russ Russell, who has previously worked with DIMMU BORGIR, NAPALM DEATH and EVILE.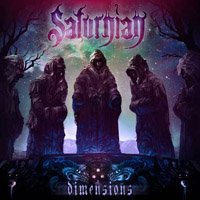 Tracklist:
01. Construct: Illusion
02. Into Etherea
03. Aphotic
04. Eternal Eclipse
05. Shadow Of Prophecy
06. Traces From The Past
07. Dimensions
08. Origins Of The Future
09. The Immaculate Deception
10. Wreathed In Flame (bonus track)
The songs "Eternal Eclipse" and "Into Etherea" can be streamed below.