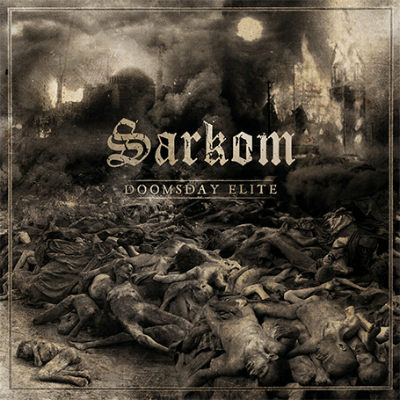 Dark Essence Records-2013- NORWAY
SARKOM are heart from again. After five years the Norwegians published in October 2013 their latest opus "Doomsday Elite". It is distributed via Dark Essence Records.
And the guys have not unlearnt anything over the years. You can hear pure Black Metal spiced with the very own sound of the band. Thereby short excursions in other musical genres (for example Industrial and Thrash Metal insertions) are no rarity. Arbitrary and very independent riffs which come in pitch-black insert outstanding into the Old School Black Metal overall structure. Six songs develop which outstanding manhandle the fine line between boring, thousandfold heard before sounds and fresh, innovative music. By variations in speed, from genuine thrashing to the moderate mid tempo song is represented here everything, the production receive additional motion. But, the necessary hardness and darkness remains at any time at "Doomsday Eite". The songs have still more bite and sustainability by the new drummer Uruz (URGEHAL). A real fireworks of energy and emotions which you don't forget that fast! Professional recorded you notice with each note that here were grown men at work who know what they want. A must-buy for all Black Metal fans!!!!
8,7/10