Reviews
SAKRAMENTUM "Beyond The Dark Mountains"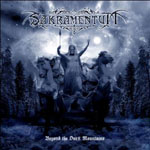 Miner Recordings – 2012 – Serbia
SAKRAMENTUM from Belgrad, Serbia, are a pretty young band. This year they put an EP callled "Beyond The Dark Mountains" via Miner Recordings on the dark Metal scene.
The EP contains five Symphonic Metal songs. Extremely melodic base frames which come in nevertheless powerful and energetic. It develops an intensive divergence which is worked out very well by the use of doubleblast drumming and dark growls. "Beyond The Dark Mountains" receives by clean vocals interspersed from time to time additional variability and sustainability at the same time. There is further loosening by keyboard sounds used now and then at the right spots. Sound worlds of morbid and brutal beauty emerge which are independent and very dark. The songs all move in the mid tempo area. They receive by the variable change of tempi power and go forwards.
SAKRAMENTUM play very technical Black Metal without copying thereby well-known role models like for example DIMMU BORGIR. I can only recommend "Beyond The Dark Mountains"!! A very successful debut!!