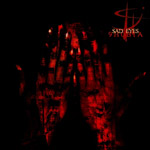 Razed Soul Productions – 2013 – Spain
The Spaniard SAD EYES aka Santi Gzles put his second opus "9HOB1A" on the scene.
The album is no ordinary Death Metal album. Santi Gzles called for this album a large horde in the form of famous guest musicians as strengtheners on guitar and bass as well as guest growlers whose enumerations would break here the mould. The outcome is an extremely diversified and innovative opus. From melodic guitar performances to little short of Thrash Metal, indeed in the Speed Metal area making leeway riffs you can perceive here very different styles of playing which make the production rich in variety and also unique. The different growls give "9HOB1A" the necessary severity and nip. Powerful bass lines reinforce the energy and brutality. Forceful doubleblast drumming emphasizes the brutality. The all in all nine songs go forwards and are fresh. Technically proper recorded and produced the Spanish musicians show here how to make real good Death Metal. I can only recommend "9HOBIA"!!!