Reviews
REQUIEM "Infiltrate…Obliterate…Dominate"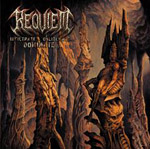 Twilight-Vertrieb – 2009 – Sweden
Requiem is a Swedish band that can be called as an old one, they caught up the late 90's death metal trend and was founded in 1997. The band who had released their first work –an ep- in 2001 published four albums. And they have gotten into studio in previous December for a new work, its tracklist has already been announced in their website.
Old school death metal which is a part from their foundation years can still be felt in their music. Besides this, I can say that their music is a mix of European and American brutal death metal. Melodic, but brutality is on the front, very agressive. I can also say the band is the modernized one of the groups like Morbid Angel and Immolation.
My favourite in the album is "The Last Campaign." I can recommend the album for the ones who would like to listen old school death metal in modern, more brutal death metal. A qualified classic of death metal.
9/10