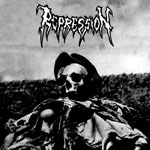 Self-Released – 2012 – Finland
REPRESSION are from Finland. Last year they put their demo in in-house production on the market. It is published on vinyl in December 2012 via Reinig Records.
What can I expect here? Pure Thrash Metal. No more, no less. Traditional riffs mingle with powerful drumming to an independent mixture. This results with addition of forceful bass lines in the sound of REPRESSION. The powerful, partially snotty vocals of bassist and vocalist Elias Jimenez still emphasise this impression and give the production additional power. The listener is carried away by the all in all four songs. The variations in speed give only a little time to relax in order to floor the accelerator the next moment. REPRESSION definitely go forwards and show joy of playing and commitment from the first to the last minute. They sound thereby fresh and anything but vintage. I can only recommend this demo!!!