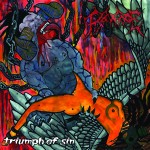 Violent Journey Records – 2012 – Finland
RAWAGE already honour since 2009 the musical Metal underground. They recently released their EP "Triumph Of Sin" via Violent Journey Records.
RAWAGE immediately go flat out here. Thereby is one musical genre not enough for them! The all in all three songs offer an arbitrary blending of Thrash Metal with Death Metal and Black Metal elements which is however extremely hearable. With highspeed and a mind-blowing drumming the songs are sweeping and go forwards. Powerful bass lines as well as the distinctive growls of shouter Marko emphasise the hardness and brutality of the production. Here is pure headbanging the order of the day!! The gents show here their skills technically adept and ambitious. "Triumph Of Sin" got a solid and very energetic EP which I can warmly recommend to anyone who is not restricted in one thinking!
8/10