Reviews
RAVENTALE "Dark Substance of Dharma"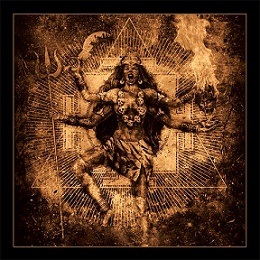 Solitude Prods/BadMood Man Prods – 2015 – Ukranie
Raventale is a Ukrainian atmospheric black metal band. The band has been formed in 2005 and released 10 full-length albums so far with the 10th one being the latest record "Dark Substance of Dharma" .With this album, the band delves into the Indian and Tibetan philosophies. This record will especially catch the attention of those who are interested of 'Kali', the dark goddess of time, change, power and destruction.. The album cover tells it all!
I have to admit that it took me a few spins to get into the record and the more I listened to the record, the more I appreciated the style of the band and the overall sound of the record. What makes "Dark Substance of Dharma" quite interesting is that whole 'Indian and Tibetan philosophies' aspect, which has been blended to the record quite well. In each song or even generally in the album, the listener will hear a story filled with the contrast of the aggression in the vocals and the tranquillity of the melodies in the background. This tranquillity makes the record atmospheric and also melodic. So the album is not 'calm' actually but manages to deliver that atmospheric vibe quite well. I am not the 'technical' expert myself but I found the drumming quite impressive and of course the vocals are really passionate, which makes the record more brutal!
Musically speaking, we can sense the black metal throughout the record. The band's style reminded me of the bands of the older BM era; the record itself is not 'raw' but there's something in the band's style that is quite raw and just dynamic. Highlights of the record is definitely "Kali's Hunger" and "I Am The Black Tara".
"Dark Substance of Dharma" may not be my favorite but it is definitely recommended for the lovers of atmospheric black metal!
8/10
https://melodyofthesoul.wordpress.com