You gave the good news about your new album "Morbid Blood" firstly in December 2009. What is the reason of the departure of this album?
S: "Morbid Blood" is out since March 2011. We signed with Hells headbangers earlier that year and it took a while to get it out. We had been working almost 2 years for this record so the announcement was made right after we had the demos completed.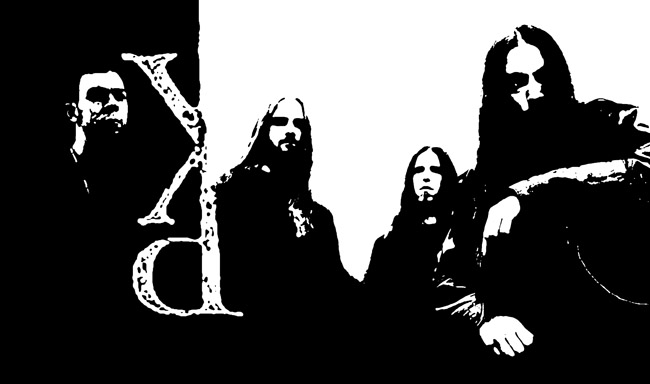 I listened your latest promotion of the new album and it sounds more agressive than the one before. Could you tell us about the recording sessions? Who contributed the songs lyrics? Can you give us some information about the new album?
Our new album includes 10 tracks of impure black/thrash metal the old way, mixing the sound of 80s and 90s with a raw, organic sound. Most lyrics are written by L. (vocals), fewer by me. Being more aggressive is always our aim. About the recordings, we did them all in our rehearsal place in live mode. This was done to capture the intensity and coincidence of a live feast. We mixed and mastered it ourselves and it came out filthy and primitive as we wanted it to be.
Also there will be a split album with band Omega. Is it certain that how many songs will be on that split album? Is this split album will be like the split album kind that we used to listen like songs of the two bands will be seperated or there will be some duet songs?
Each band has its own side, ours includes a new, unreleased track called "Deifier Of Necromancy" and a cover to Hellhammer's "Massacra".
Are there any different projects that you'd like to consider in the future?
You mean form a project band? Myself I don't think so, I'm complete with the style of RAVENCULT although one can never say never.
The most different album cover of yours was the "Despise The Blibdfold" albums. Obviously this is my favourite one. I don't know but has a different atmosphere. Who designed this cover? Who did you work with on that album?
It's a painting by G.Dore, an artist whose works have been widely used over and over in the BM undeground. I don't like the choice so much anymore, it's a cliche but I don't care so much about it anyway.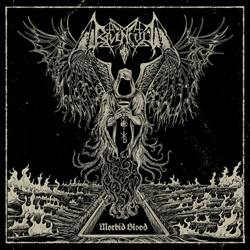 I'd like to ask about the intro of "The Sigil of Baphomet" song on the "Temples of Torment" album. This song is my one of the favourites an done that i really like of Ravencult songs. (others are Nightsy Sodex, Pure Hellish Blasphemy and Darkest Shade of Black ) Where did the idea come from for creating an intro like that? Could you share with us?
It's an excerpt from a christian orthodox psalm, inversed, to blaspheme the Holy. Mocking religion is one of the things we stand for. We use symbolisms. The archetype of the Devil is a spear to fight back religion and the submissive, pathetic stance of man.
Your latest album cover is very culte. The pictures and also the design. Are those ideas are genius beeing of Moyem?
Frontcover is done by C.Moyen, he did a great job. We thought about using his personal style but doing something else than baphomet or zombie images. We're proud of his art, especially as it appears on the LP. Rest of the artwork is done by Uncanny graphics.
You had chances to work with great bands like Watain, Carpathian Forest, Inquistion and Mayhem and also you have performed on a lot of open air concerts. How do you think about those influences? At first, did you think that you could achieve those opportunities or did you have concerns at the beginning?
It is great honor to share the stage with well respected acts, we've done gigs with bands we've been fans of for years, like Mayhem or Varathron. Best gigs so far have been with Inquisition in Germany 2009 and with Aura Noir in Athens 2004.
Congratulations for the new deal with the Hells Headbangers. How did this deal happened with this label which have a lot of good bands under their quality?
Thank you. We sent them over a copy of "Morbid Blood" as soon as it was finished, and they got back to us making an offer to release it. HHR was our priority judging from their excellent roster and good words spoken about them from the guys in Zemial and Inquisition. Plus they do great job on vinyl, which was our basic need.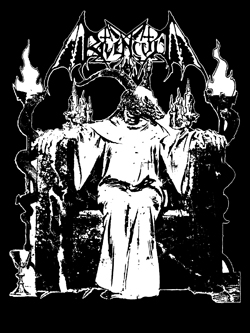 On this situation i have another question. All of your albums released under different labels. Do you make the deals with labels only for one album or do you have to leave them for not getting along with the labels much?
Well, the demos were self financed, then the "Armageddon Rising" 7"EP was out by the guy of Aenaon Music and it was an one off release on a small undeground label. We signed to norwegian Dark Essence for the debut but wanted a new label for "Morbid Blood" so we chose HHR. We're satisified with them and hopefully we'll continue that way.
You have an open position for a drummer right now. I told that because you only have a drummer for sessions who plays for another band named Cross Denied. How are works and records happening right now? Do you have problems with him for playing with another band and do you consider another drummer for the band nowdays?
We have a drummer. That's crap written on the metal archives website without ever asking the band. His other bands are Dodsferd, Nadiwrath and Abyssgale. We don't have a problem with live or recordings since we're 4 fulltime members. Line up since 2008 'til this day is L./vocals, S./guitar, J./drums, S./bass.
You have shared the stage with a lot of good bands in a lot of open air concerts. However, you have very few live videos. Do you have a plan of making a DVD for live performances?
No.

I never share the stage with …………. or i won't consider myself in an organisation with them ever. Do you have any band name for that blank or are there any band you'd like tos hare the stage in the near future?
Venom, Slayer, Possessed.
Are there any bands you like that you track the albums of them? Are there any bands you get influenced from?
We get influenced from real black metal, first and second wave and also evil thrash. I am into black/death/thrash/doom/heavy and fave bands vary from Celtic Frost, Zemial, Darkthrone, Bathory to old Iron Maiden, old Slayer, Motorhead… the list is endless.
With bands and albums for black metal; are there any country that you track down their music endustry? Could you comment on the black metal bands of today?
There's good black/death/thrash releases coming from different scenes, like USA, Sweden, France, Norway, Greece, Germany and a lot more so I try to keep an eye open in every scene.
These were my questions. It was a little long so i hope its not a problem for you. Thank you for accepting to make this interview and for answering them. Do you have any last words fort he readers of Extreminal and for your audience?
The primitive sound returns! Thanks for the interview. Write to: RAVENCULT, PO BOX 3747, ATHENS 12010, GREECE. Two more releases will be unleashed in the near future, the "Temple Of Morbidity" rehearsal tape and a 12"EP in winter including 4 new sinister tunes to celebrate the first RAVENCULT decade.