Featured
Interviews
News
Raven Interview With John Gallagher
Raven! Fuckin Raven! The underground wouldn't be as it is if not for Mark and John Gallagher, 2/3's of the trio of Raven, who formed the band in the mid 70's and released their first single (7") in 1980 called "I Don't Need Your Money" on Neat Records. The band is still going strong after 40 plus years and then some!!! Here is a recent interview I did with John and I am proud to feature them on this website....take it away John
John, I could make this interview, hell easily a 100 questions, but I am gonna limit it ha ha. First off, did you think in a million years when Raven first formed, the band would still be around in 2022 and still going strong into 2023? How do you do it?
JG: lol.. no! I could not conceive of what we'd be up to a week in advance let alone 48 damn years!!! It's sobering…. humbling… and spurs us on to continue kicking ass!!!
What was it like putting the songs together for your debut release called "Rock Until You Drop"? Were you all excited to go into the studio to record a full-length album?
JG: Oh incredibly excited! We'd had such an amazing response to our first single " don't need your money" and pretty much had all the songs we needed… although the process took a long time as it was a day in the studio here… and there… producer Steve Thompson now admits he told Neat boss Dave Wood he could only handle us a day at a time as we were so crazy Lolol!!! As it took so long you could actually hear the band progressing and changing from track to track… " hell patrol " and " don't need your money" is a few of the earliest recordings and the Sweet medley "Hellraiser/Action" and "For the future" being the last ones..
What was it like all those years ago when you first met Johnny Zazula? What was he like back then? What were your thoughts when you heard of his passing earlier in 2022?
JG: Jon was basically like a hellfire preacher…. like he was "on a mission from God" to quote the Blues Brothers…. just had manic intensity and for his bands, he'd literally do anything .. harass anyone… and through sheer force of will make the impossible happen … he and his wife Marsha were unstoppable… Cried my eyes out when each of them passed… they changed our lives … and many, many others too. (could not have said it better-Chris)
What was it like going out on your 1st US tour back in 1983 this was way before the age of the internet, GPS, and all you had were maps. Did you get lost much?
JG: Well being as we actually were taught geography in school and how to actually read real maps… that part was never an issue lol!!!
Although we never did any driving back then… I never learned to drive until years later lol!!!!
It is amazing when you look back though.. no cell phones… no GPS… and we made it happen!
The tour was insane… us… our 3 roadies from our home town… our openers Metallica ( yeah… those guys!) their crew… sound man… light man … tour manager all crammed in a 6 berth Winnebago and 2 trucks…it was guerilla warfare!!!
How were the crowds back then for the shows really back then you only had fanzines, college radio, and just word of mouth to get the word out basically.
JG: In the bigger cities there was strong word of mouth about both bands…. but in places like Arkansas…. it was another world…. but we loved that you'd get a totally fresh reception!!!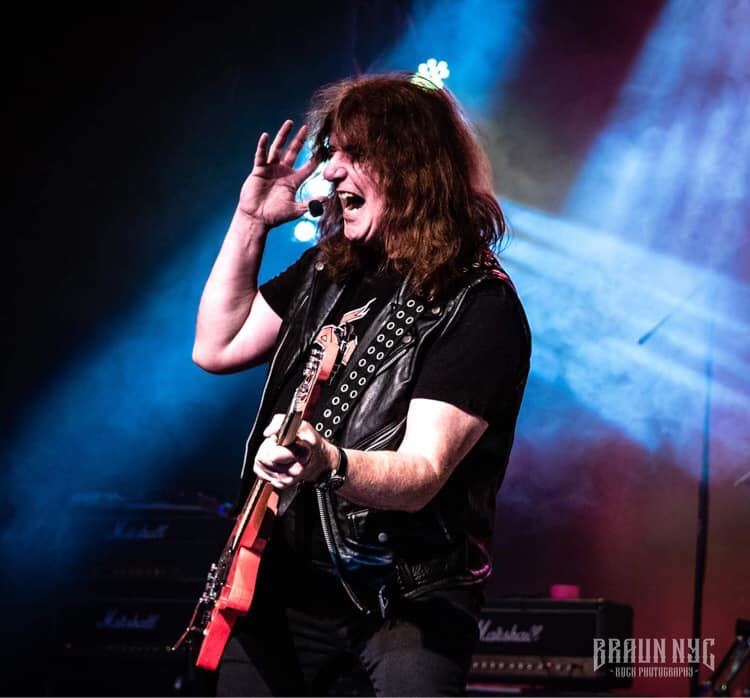 Now back over in England, when you were based at the time, how was it working with Neat Records?
JG: A shoestring operation ran by a Benny Hill lookalike who was so cheap it was legendary…but they were there at the right time as back then the only way to get any kind of record deal was to go to London… as in move there .. play the clubs and hope you'd get noticed. Where we were was the equivalent of being in Alaska and the business being in NYC…. so the fact that an indie label like Neat was making noise in the London music press was just amazing.
The studio was in the dressing room areas of an old theatre that was a bingo hall downstairs… 16 tracks… zero effects… bare bones …, but we made it happen!
I love your "Live at the Inferno" release. Was that recorded at one show or several during that particular tour?
JG: It was over a number of shows… NYC and Chicago for sure and a few more… I remember Jon Z chasing this photographer for the back cover shot… the guy normally charged $1000 and Jon wasn't having it… he kept offering $300 and the guy exasperatingly said: " you gotta pay more than that!" So Jon sent him a check for $300.01….. three hundred and a penny! And used the photo!!!!!!
At what point did you make the move from living in England and deciding to pack your bags and live in the US?
JG: In early 1984 on the pretext of rehearsal we took all our gear and whatever press photos etc we could steal out of the office. away from Neat and Jon brought us over to the US to tour until we got a major deal and a major tour agency deal…and by the end of that year, we'd done both! We went home for Christmas… came back … worked all 1985 and did it again… and eventually realized we were here lol!!!! It was for our career… Neat was doing little for us and Jon & the states offered far more opportunities.
Now after a couple of releases over here in the states (Neat over in England), you ended up on Atlantic Records. Were they the only major label interested in you at the time? Looking back do you think they really knew what to do with a band such as yourselves?
JG: No! Lololololol they, unfortunately, hadn't a clue. And by the time we realized it … we knew we had major issues.
I was around back then, I'm 57, and to me most of these major labels, if not all of them, just saw the success of Metallica, so they started signing thrash bands like Testament, Kreator, Death Angel, Exodus, etc and when those bands didn't sell millions of records, I think they had more in some ways had a hand in having these bands soften their sound. Your thoughts on what I said?
JG: The majors tried to screw with almost every band … but Atlantic was by far the worst… they literally had zero ideas of what we were and they pushed hard basically to make us " Bon Jovi meets Kiss" which failed miserably… thank god! So we regrouped and got back on track .. which confused them even more so after the " life's a bitch" album and tour we broke the deal with Atlantic and moved on.
Now you ended up on Combat Records after 2 more releases on Atlantic and you released "Nothing Exceeds like Excess". Did you have fun putting together songs for that release?
JG: To be fair… the only " commercial" album we really did was the pack is back… the Mad ep and Life's A Bitch certainly kick ass. But yes… Nothing exceeds although done on a shoestring budget…. has a lot of great songs! Rob had left the band and it was a tough traditional period …we wrote a string of killer songs and got Joe Hasselvander in on drums …so we had a lot to prove and it came out killer!
About the Atlantic years. What sort of tours did they try and put you on? I do remember "The Pack is Back" and yeah I was not a fan. but yes you rebounded with the EP called "MAD". I can only imagine what sort of bands they tried to put you on tour with. To me, you would have fit in quite nicely with Judas Priest or Iron Maiden at the time.
JG: Tours??? Lol Atlantic would never have tried to put any band ON a tour… that would be handled by the band's agent. We were on Premier Talent ( The Who…. Journey…. Judas Priest) but 98% of the bands we could have toured with were on a competing agent…. who was passed we never signed with them. So we did 6 dates with Judas Priest on the Turbo tour… and did headline shows. Eventually, we had to bow out and join the other agent…
Now John I was at the Ultimate Revenge show at the Troc in Phila, PA. To me, it was a bill you shouldn't have been on, even though I love all the bands on the bill. What was Combat thinking at the time putting you on a bill with a death metal band,(Death) Dark Angel, who just released a super fast thrash album, Forbidden who are also thrashing metal, and Faith or Fear, who are also thrashing with a mix of punk in them? Whoever decided to put you on that bill needs their head examined. Your thoughts on the show?
JG: I agree 100% … we wanted to do a video and Combat said " then play this show". It was a decent show but a miserable day for us dealing with a substandard PA and our soundman have to take the board apart and fix it .. while the other bands thought we were playing "rockstar" and screwing them out of soundcheck time…. amateur hour.
How was the morale of the band overall during the Combat years? Did you do much touring behind this release? Did you still play much overseas at all during this time?
JG: t was tough but we rolled up our sleeves and worked hard. We toured with Testament in the States and with Kreator in Europe and did well!
Now after Combat, you released an album called "Architect of Fear" on Steamhammer Records, which is an overseas label. Now seeing you were in the US, why an overseas label, although Steamhammer on paper did release so great stuff over the years? How was your time with them?
JG: Because Combat was Mickey Mouse we bailed out…. Kreator's management started working with us and got us the deal with SPV and we toured the opening for Running Wild in Europe in 1991… and headlined Europe in 1992
Oh before we move on, who came up with the name Raven and your logo?
JG: lol as kids we basically had a list of band names and Raven was the least annoying name!!! I came up with the logo just as we signed with Neat.
When "Wacko" decided to leave was that a rough time for you guys? How long did it take at the time to find another drummer?
JG: Yeah…. we understand why he did it but we were kinda bent out of shape as he told his roadie to tell the manager.. to tell us…all water under the bridge at this point.. he was married with a family on the way and had to do what he did! It took a few months before we got fed up with trying guys and decided to give our friend Joe a shot…. and it was perfect!!
In 1995 came another live album, this time from Japan, I mean it was recorded there called "Destroy All Monsters". Since I have never been to Japan, what are the audiences like over there?
JG: Yeah… our 1st trip there. They had a curtain across the stage which was cool for setting up… as it got later and we heard no sound… I went to peek through the curtain – the venue was jammed full and you could have heard a pin drop! But when the show started they went crazy!!!! We absolutely love our fans there… so passionate!
You guys just kept rolling along releasing new albums or EPs. Where did all the inspiration come from all these years?
JG: Yep… it's what we do!!!! The band's main thing is playing live… but we also love to create and record new music… and have never stopped doing that.
Did you have a hand in the release: All Systems Go – The Neat Anthology? Is there any unreleased stuff on there?
JG: Not really… but the other reissues Sanctuary did I was involved in and they did a good job.
John where do most of your ideas for lyrics come from and how about songs? What have been some of the toughest song ideas over the years for you?
JG: I jot down ideas here and there just in case but usually the music suggests a title or a direction…. once I have a title and an idea…. I'm off and running. The lyrics can be about many things but I keep them deliberately not literally.. that way they can have many meanings!
Now, how difficult is it putting together set lists, minus this upcoming tour, which I'll get to shortly? Are there any songs that are pretty much a must that go in a Raven live show?
JG: It's tough but doable… we basically try to balance between pleasing ourselves and the audience… so we do have a slot in the set that's the " revolving" song and we will change that occasionally!
Do you think minus, the "Pack is Back" release, that the "Raven" sound has changed much over the years?
JG: It had a core sound due to Mark & me obviously, but it does morph… change and evolve…, especially with Mike on board.
Now you are doing a special tour of the 40th anniversary of your "Wiped Out" release being played for the 1st time in its entirety. How did you come up with this amazing idea?
JG: it just made perfect sense… 40 years has some weight to it y'know? As I'm wringing thus we've done about 37 of the gigs and the reactions have been amazing….for us it's a very different gig – but hugely enjoyable!
Will there be new music in 2023? Could you ever see yourselves just going out on the road, but not supporting any new music to tour?
JG: Yes indeed…we have a brand new album already recorded and are putting the final touches on the mixes.. looking at a May/ June release!
We have toured many times without necessarily supporting " our new album"… but we are not a nostalgia act… we have continued to put out vibrant new music & will continue to do so!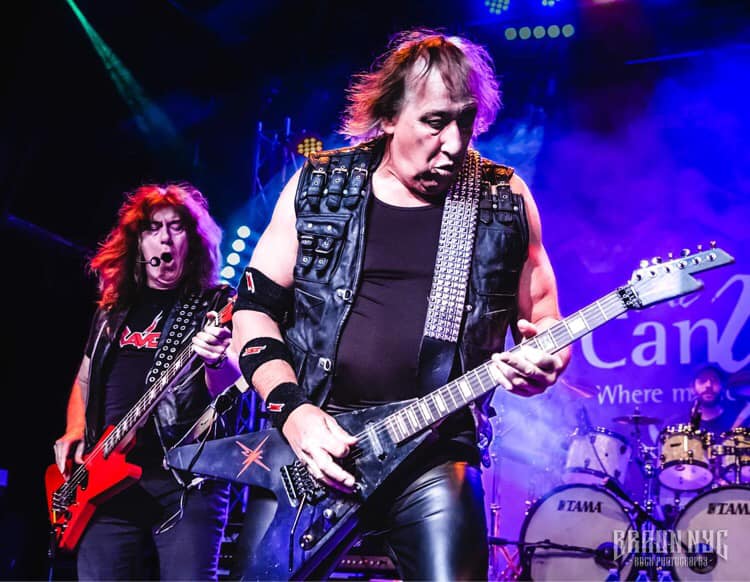 One thing that is a shame John is that today's kids into metal will never know what it was like back in the early days with tape trading, fanzines, denim jackets with patches, fist banging and head banging at shows and everyone back then went to shows to see the bands and support the bands, would you agree kids these days will just understand that feeling? I was like a kid in a candy store going to shows and picking up the latest releases on Megaforce, Metal Blade, Noise, Roadracer, Neat, and then some of the other smaller labels that popped up. Buying every issue of Kerrang, and Metal Forces and even started my own fanzine in 1986.
JG: That's true, kids today have to dig to find just a piece of that – but they have the internet and all its benefits….the resurgence of vinyl is a great thing as it's helping stores survive & sell physical products… so those stores are out there like when we were kids – you just gotta look for them harder!!
Please plug any social media sites you have and any Raven merchandise you have and I'm buying a shirt at the show I go to for sure.
JG: FB is official_ Raven…. as is
https://www.facebook.com/ravenbandofficial
Website is http://www.ravenlunatics.com
Instagram: https://www.instagram.com/ravenbandofficial/
John, I am honoured to have interviewed for the webzine I write for. Best of luck and good health always to yourself and your family. Fuckin Raven rules and please "Crash Bang Wallop" for many years to come. Any last words, the floor is yours?
JG: Thanks to you… and the fans! You continue to humble us with your support & loyalty… and next year " all hell breaking loose"!!!!!!!