Reviews
RAHU "The Quest for the Vajra of Shadows"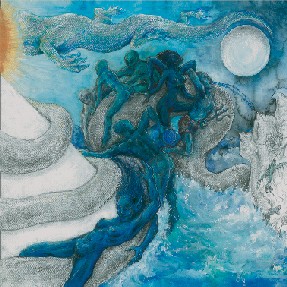 Ahdistuksen Aihio Productions – 2012 – Finland
The Finnish duo RAHU released their first full-length cd which is called "The Quest For The Vajira Of Shadows". It is distriuted via Ahdistusken Aihio Productions.
What can I expect here? Old School Black Metal, pitch-black and full of emotions. Icecold riffs which are full of hate and beauty result in the base frame. This seemingly contradiction is however none! Accentuated of a powerful drumming and hard bass-lines dream worlds of ice and despite develop. A journey of no return in unknown depths of evil and hell. The emotional growls of vocalist and drummer Kobalt manifest loneliness and depression. A very intense, oppressive musical journey. Synthesizer solemn melodies can't lighten the misanthropic, oppressive atmosphere. What remains is a Black Metal album which perfectly carries the spirit of the 90-ies into the year 2014, but nevertheless copies. Here is buying duty!!!!
8,7/10