Swedish Deathgrind behemoths QUEST OF AIDANCE have announced their debut full-length album as "Misanthropic Propaganda". Belching out fourteen tracks of exceptional grinding, where both lyrics and artwork are based on the classic 80's sci-fi TV-series "V"; the group's first full-length effort is a major evolution prior to their previous two EPs.
The album cover artwork for "Misanthropic Propaganda" features the anomalous yet breathtaking trademark of Pär Olofsson (Immolation, Malevolent Creation, Coldworker, etc).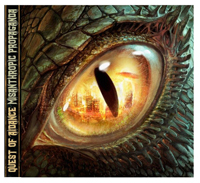 Tracklist:
01. A New Storm Rising (Instrumental)
02. Seething Voids
03. Deadly Viral Strain
04. To No Avail
05. Section 34
06. Anyx
07. Dimout
08. Sothis Allegro (Instrumental)
09. Red Dust
10. Spawnlayer
11. Sirian Breed
12. Like Shadowing Suns
13. The 5th Column
14. Doom Reactor
QUEST OF AIDANCE have recently completed work on the music video for 'Anyx', a brand new track taken off from the new album "Misanthropic Propaganda". Watch the 'Anyx' music video below.