Reviews
PRIMORDIAL "Redemption at the Puritan's Hand"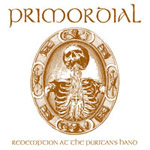 Metal Blade Records – 2011 – Ireland
The Celtic black metallers have returned to the scene four years after the standing ovation they received from their 2007 release "To the Nameless Dead". Many probably wonder how they're going to stand up after such a success with their next one. Well, I can tell you after listening to "Redemption at the Puritan's Hand" that this one impressive album across the board.
Although a little more mid-paced Primordial still delivers massive anthems as is shown on the chilling opener "No Grave Deep Enough" that is full of Nemtheanga's melodic roars. "Lain with the Wolf" really shows the soul of primordial with mournful crooning and melancholy guitar lumbering through. "Mouth of Judas" opens up softly with a dreamy quality and slowly gives way to an epic ballad with Ciaran showing some quality guitarwork as Nemtheanga continues to pull at your emotions with his stories. Though small, Pol delivers a killer bass solo during "Black Hundred" which is the one thing that I've not been hearing too much of, if that was my one complaint.
As with previous albums the songs are quite long but there is enough character to hold the listener's attention. Primordial is that band that will push themselves when they need to go that extra distance with their songs. They don't want us to just listen, they want to enrapture us and fully be a part of this experience.
"Redemption is at the Puritan's Hand" is so much more than a metal album; it is a story of sorrow, anger and the beauty in death. It is an album that will make you remember that what we appreciate in metal is the quality, not the quantity.
9/10