TRANSIENT CHRONICLES is the title of the fifth studio album that chilean Doomsters POEMA ARCANVS will release on October 10th, this time under AUSTRALIS RECORDS.
The full length consists of 9 tracks of the signature sound developed by POEMA ARCANVS through all their previous productions, and in the words of singer-frontman CLAUDIO CARRASCO: "this album collects everything Poema Arcanvs has created during our 20 years career, from the darkest and rawer sounds to the more atmospheric passages, achieving a synthesis of everything we've done before" TRANSIENT CHRONICLES was recorded and mixed at the ATOMIC NOISE STUDIOS Studios by guitar player and founding member IGOR LEIVA, achieving a unique sound: clear, powerful and elaborated, yet organic at the same time.
TRANSIENT CHRONICLES is also the introduction card that the band will bring on their first tour through Europe; where they will share the stage with renowned bands such as Master, Sinister, Celestial Season among others; on what is expected to be the prelude to a new era for POEMA ARCANVS and their long overdue and deserved exposure within the International scene.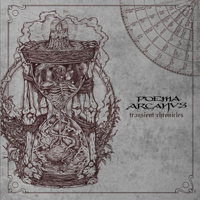 Tracklist:
01. Us, Those Half Dead
02. Stream of Debris
03. Fugitive
04. Inquilinos
05. Fading
06. Omniscient Opponent
07. Lambs
08. Default Song
09. Our Little Blood
The sleek digipack edition artwork was designed by ENZO TOLEDO, a designer-illustrator with a vast experience into the Chilean doom scene; with evocative images and symbols that reinforce the concepts behind the album lyrics; and that will certainly bring this recording to a masterpiece status within the collection of every Poema Arcanus fan.
TRANSIENT CHRONICLES will be available from October 10th directly through Australis Records.
Omniscient Opponent is the first single,
click here
to listen it.