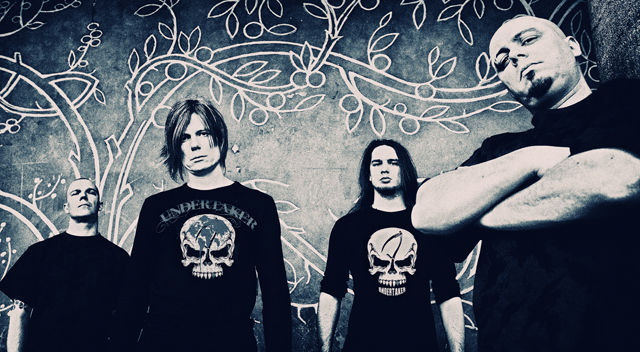 Candlelight Records today confirms the worldwide signing of PESTILENCE. The celebrated eastern Netherlands-based band is currently preparing to enter the studio to begin work on their seventh studio album, titled Obsideo. The album is expected to be produced by vocalist/guitarist Patrick Mameli and set to feature ten new songs. No release date is set as of press time.
The band comments, "PESTILENCE is very excited to announce that they have signed a recording deal with Candlelight Records. We feel that our new material is very special and innovative and that it needs the back up of a solid company like Candlelight to get it out there to the metal world."
Obsideo will feature band mastermind Mameli and long-time partner guitarist Patrick Uterwijk with new German bassist George Maier and Australian drummer Dave Haley. Mameli notes, "PESTILENCE is chuffed to have Dave Haley in the lineup. Dave is one of the five best extreme drummers in the world, and his talent brings PESTILENCE to new levels that couldn't be reached otherwise. Georg Maier is a young and talented bass player that will turn some heads. Both guys are really down to earth and real easy going. Of course, Patrick Uterwijk is my most respectable and long-going friend and musician."
Formed in 1986, PESTILENCE took influence from early American and German thrash metal to cultivate its now signature death metal sound. Four albums would see release and continued worldwide growth for the band before members decided to go separate ways in 1994. Fourteen years later, the band would reform and in 2009 released Resurrection Macabre (Mascot). On review, noted website Chronicles Of Chaos said, "Mameli and company chose to steer this effort down paths previously unexplored whilst maintaining their unmistakably vintage essence." Blabbermouth added, "distinctive and unique… a diverse and satisfying metal experience."
In recent years, PESTILENCE has also returned to the live stage; their first North American tour in over 16 years commenced at the annual Maryland Death Fest May 30, 2010. Commenting to Noisecreep after announcement of the 18-city tour, Mameli said, "we will put our heart and soul into these upcoming shows and hope to make lots of fans happy with both old and new material." PESTILENCE was a featured performer on the second annual 70,000 Tons of Metal Cruise that left Miami on January 23, 2012. The band performed two sets on the popular Caribbean cruise that also featured Cannibal Corpse, Crowbar, My Dying Bride, Samael, Overkill, and Venom among others.
PESTILENCE is exclusively endorsed by Ibanez Guitars and Pyramid Strings.