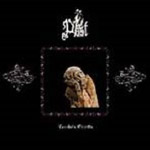 Ketzer Records – 2009 – Germany
Despite the fact that how late I managed, I've finally got German band Pest's new album. Our friend Ketzer Records sent the album to me a year after. Pest is now in front of us with a usual dark sound of them, they've preserved their darkness and stable style. One plus is that they've returned with a cleaner record in terms of recording quality. In the past, the albums of them used to be printed in thousand copies, now they've printed only 350 copies. And I have to say that I find this album a bit melancholic and slow.
Long tracks can be boring, because they consist of stable, repeat riffs that never change. Really boring, this was made purposely to indicate gloomy, dark atmoshpere. But Pest didn't used to be one of the cliché depressive black metal band, I think they have been through changing. Except from the two tracks, Wasteland and Schnee Und Eis, I think this album is too cruel. In my opinion, these two tracks spoil the album. Don't they?
I don't find it right to boast with long long tracks -15 minutes- when there are really good tracks in the album such as Trance, Decontamination, Riding the Storms. Our German friends constructed a both gloomy and agressive structure. Pest, with both their powerful songs and hateful vocal technique, seems to succeed in what they wanted. Stay away from long tracks, the songs like Decontamination, Riding the Storms quite suit you!
7.1/10