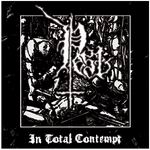 No Colours Records – 2005 – Sweden
Actually I wouldn't criticise this, i thought i can't be objective. I know it's a bit late, this album was released 8-9 months ago(almost 1 year), but they are here with their great work "In Total Contempt".
They really surprised us with "Daudafaeard", it was just one song 20 minutes long, dark and depressive. After that release I wasn't waiting for such an album. I was thinking that Pest would make depressive albums like the other bands, they horrified me with this bone breaking album.
It's really hard to criticise this album, because all the songs are in integrity, there isn't a bad song, there isn't a second i would say "sucks". It's a real professional album yet it keeps the amateur soul. We can call Pest as a follower of Darkthrone, and in this album we can see the influences of Sardonic Wrath and Hate Them and the 80's thrash metal, the band is more mature in this album.
While getting faster with "Thrones Ablaze, Beyond Redemption, In Total Contempt, A Vengeance Rising and Cold Stare", they take us to the atmosphere of Daudafaerd with Slaves of Celestial Bounds. Everything fits this band, because they do it good.
My favourite songs in the album are; "Dreams of Life Seem Morbid, Beyond Redemption, Cold Stare, Into Deep Black Halls".
8/10