Interviews
Pessimist – Interview
Kelly Mclauchlin is the founding member of the death metal band Pessimist and seeing how they are back together with a new album coming out, I got hold of him and here is what he said to my questions.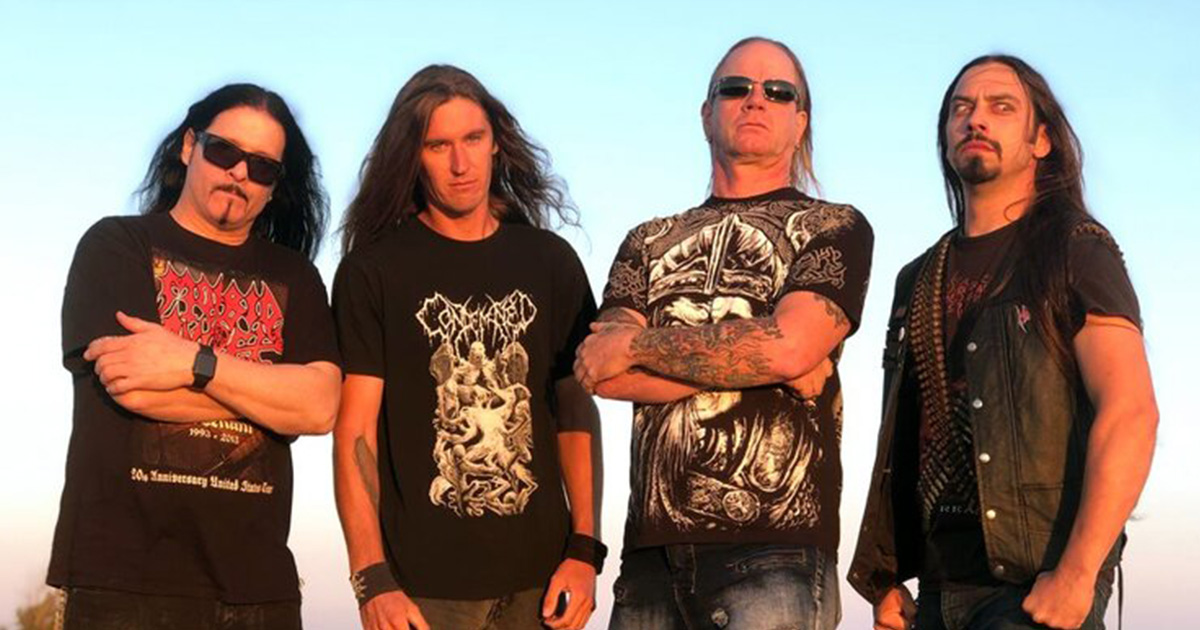 Gonna start off with some recent news and then go backwards a bit. So recently your 2002 release Lost Disciple Records was recently re-issued by you guys. How did this come about?
KM: That record label, Lost Disciple Recs closed some years ago, in 2006 – and even though we were no longer under contract, they still owned the master recordings, and for many years our records were out of print.
So in 2014, I bought the rights to our back catalog, for all 3 CDs: "Cult of the Initiated", "Blood For the Gods", and "Slaughtering the Faithful".
In 2015 we had "Slaughtering" re-mastered by [Morbid Angel soundman] Juan "Punchy" Gonzalez, and released on Obscure Musick label. This was an improvement over the original 2002 release, but still I knew it could sound better, and just never had the budget for someone to really give the recording the attention it deserves – so being an audio engineer myself, I have now remastered it, in my home studio, Purgatory Productions. This is the third time for this record to be mastered, so we call it "Ree" remastered – and it's the best it has ever sounded. It is [currently] a digital-only release, available on our Bandcamp – and soon via Apple Music, Amazon, iTunes, Spotify, etc.
Yeah, I think it sounds great. Now what about your other 2 releases on that label, will you also be putting them out as well?
KM: Well, we actually had a label approach us last year, Guttural Topics Recs – who offered to do 20th-anniversary digipaks of both "Cult" and "Blood" CDs. They even ran print ads promoting the re-release. We were stoked. But unfortunately, the guy has since disappeared. All efforts to contact the label have gone unanswered. So, now we are again looking for a label who would be interested to re-release our first two CDs. Of course, they will also be remastered and include bonus tracks. I'd like to see a 25th anniversary, 2-disc set. It would be great to see them finally pressed on vinyl and cassette. But as of now, we are still looking.
So how has the response been to this reissue so far? Any people not digging it?
KM: So far, the response has been overwhelmingly positive. Everyone is stoked about how much better it sounds. We've already gotten some airplay on Metal Messiah radio, and best of all the fans seem to be really digging it. It's such a significant difference… I think if the album had sounded this good when it was originally released in 2002, things would have been different for the band.
Now for those who don't know, how was the band formed and your the only original member currently in the band these days correct?
KM: Well the first full lineup was formed in Baltimore area, 1993. The band has been through a lot of lineup changes over the years, although most think of the "original" lineup, which recorded our first two CDs; and then a completely different lineup for "Slaughtering", where I was the only original member.
By 2003, this lineup had disbanded, and I moved to Tampa, FL and basically put Pessimist on hold, while I went on to play in bands such as Unholy Ghost, Diabolic, Angelcorpse (and later, Possessed). In 2008 I resurrected Pessimist, and reunited with original vocalist Rob Kline, drummer Chris Pernia, and new recruit bassist Kelly Conlon (Death, Monstrosity), and have had that lineup pretty much ever since. In 2014 we brought in Ivan "The Evil One" of Black Mass on vocals for a few shows, as well as recorded a single, "Keys to the Underworld". The latest news is we will also again be working with original vocalist Rob Kline, and original drummer Chris Pernia is stepping down, so we will be seeking a permanent, full-time drummer. So although we have been through a lot of changes, we are still in various incarnations with original members and long-term members who have been playing in the band for years.
So now, what were the early days of the band like? Was the scene a healthy one in your area? What are some memories you have of those days?
KM: Some of the best memories of the band's early days… we were on the East Coast, so some of our earlier shows we played with bands like Incantation, Mortal Decay, Dying Fetus, who was sort of just a local band back then before they were signed… we played lots of shows together. Also Horror of Horrors, and our friends Vicious Circle, from NJ. Then, later on, we got into trading shows with out-of-state bands. I started booking shows in a tiny club in Baltimore called Hal Daddy's. I booked lots of bands through there, Nile, Incantation, Lividity, Internal Bleeding. There was a pretty good scene back then in MD/VA with bands like Deceased… Pretty soon we started opening for national acts like Deicide, Suffocation, Malevolent Creation, Gorguts, Napalm Death, Morbid Angel, Immolation, Monstrosity, Vader. We used to do lots of mail back then, sending out demo tapes, flyers and all that stuff in the underground.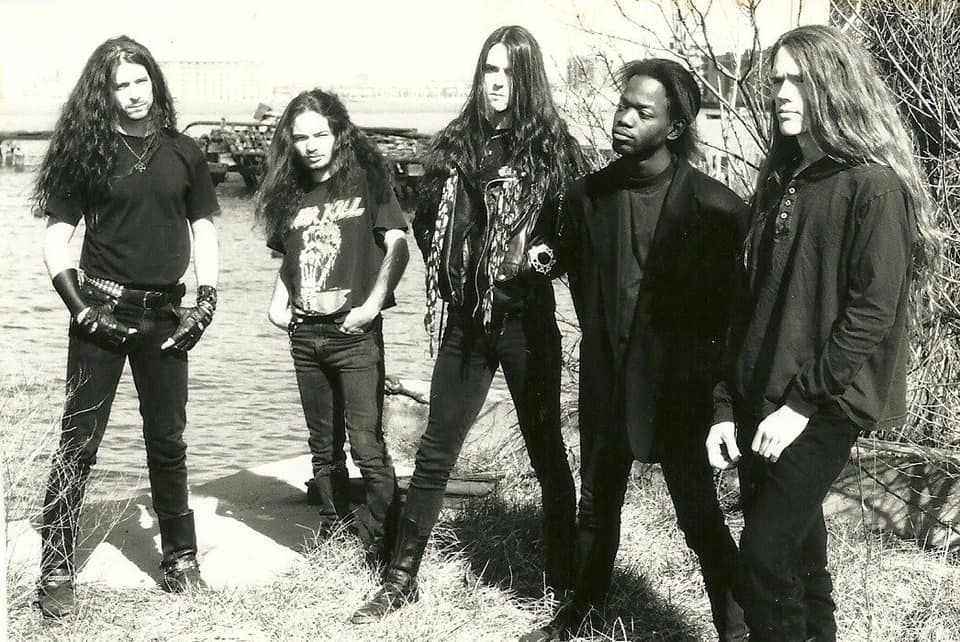 So around this time how much time was spent in any given week doing mail, practice time, writing songs etc?
KM: We practised at our singer Rob's house, in his parent's basement. This was also the "band house", with some of us each living there at different times. His parents were really very cool and supportive. We had full band rehearsals 3 days a week – two weekdays, and every Sunday – we did this for years. We divided band responsibilities back then, so we each took turns doing the mail, and that sort of thing. I booked most of the shows, and I had a boombox with dual cassettes, so I was responsible for making all the demo tape copies. We Xeroxed the J-card inserts and cut them out by hand. Rob knew how to do screen printing, so we hand-printed up a bunch of band T-shirts. Rob also kept our mailing list, and we would send out snail mail 4×6 postcards with our upcoming shows for all the locals. Maybe our other guitarist Tony would print out flyers, then we would all go to Fells Point on the weekends and hit all the skate shops and that sort of thing. So the band was always hanging out together, writing music together.. hard to say exactly how many hours were spent each week, it was pretty much all the time.
That is awesome I remember those days of the underground well. Now how long had the band been around when you released your first demo called "Dark Reality"? Around how much money did you spend recording it and what was the response to it like as I imagine you sent it out to various fanzines back then?
KM: So our first demo, "Dark Reality" we recorded at a studio which was owned by the owner of one of the clubs we played, Club 22 in Seaford, DE. The band had only been together maybe 6 months, at the time, I don't remember how much we paid for it, I think it was around $300. We made xerox copies of the black and white cover, cut them out and assembled them by hand. We didn't send many out to zines at that time, but mostly just handmade copies to sell at shows, and to use as promo for booking shows.
So the next year, 1994, you released demo # 2 "Dark Reality II". Did you record that at the same studio or a different one? What are your thoughts on this demo these days? Did you send this one out to many fanzines at the time?
KM: If memory serves correctly, we recorded at the same studio as the first demo. We had written three new songs, plus re-recorded "Dungeonlörde". I remember being not happy with the recording at the time, I thought the band should be heavier, and I thought there was too much clean singing. I didn't like the musical direction where we were headed, and so after that, we started making some lineup changes. Out of all our demos, it's some of our most unique sounding stuff, however… a bit more progressive, which is cool, looking back after so many years. It really stands out. But I still wanted it to be heavier and more in a death metal direction. Again, this demo was not sent to any zines, again used mostly for booking local shows and selling to fans. We probably traded a few of these with local bands, that sort of thing.
So now, in 1995, you hooked up with Purgatory Records and released a 3 song EP called "Absence of Light". How did you hook up with them and with this release did the band take a direction that was more to your liking? Do you remember how much time was spent doing band related stuff at this time?
KM: So, in 1995, after the first two "Dark Reality" demos, and still wanting to go heavier, we recruited a new drummer and bassist, brothers Chris and Tony Pernia. This was the lineup we recorded "Dark Reality" demo/EP with, and would later be the same core lineup from our first two CDs. Purgatory Productions was my own label I had started, and funded pro copies of "Absence of Light". We began selling these at shows, and selling or trading them through the mail, and sending to a few zines. I started doing tape trades with Wild Rags, and some smaller distros in the underground. I remember we were stoked to receive mail from fans and bands around the world, and got our first reviews, people were saying we are heavy and they wanted to hear more.
So 2 years later you ended up with your 1st full-length release. Was this with the same line-up as the previous one? Now Lost Disciple Records put this out, which at the time was an up and coming label. How did you manage to hook up with them and were any other labels interested in the band at the time?
KM: So basically, the way that happened was we wrote and recorded our own full-length album. The lineup was the same as on "Absence of Light", but we had recruited a new second guitarist, Tom Persons, from the DC band Sadistic Torment. Tom and I musically wrote together well. We had a bunch of the same death metal influences, and we crafted 4-5 new songs, in no time. Along with our previous demo material, this was enough to record the full length, "Cult of the Initiated". Again, we started out pressing these on cassette tape, hand recording our own full length "demos" and started mailing these to a few labels, distributors, some local fanzines. It even got us noticed in Metal Maniacs. This was 1996 so for us it was a pretty big deal. We started getting some reviews, everything was positive, people were really digging it. Anyways one day we're at rehearsal and the phone rings, it's this record label, Rich from Lost Disciple Records. He really liked our music and made us a great offer, for a multi-album deal. We had received other offers, but this was the first real serious offer, and so we took it. Rich treated us great, at the time we were the biggest band on his label. Lost Disciple had distribution through bigger labels like Relapse, Nuclear Blast, and Century Media. Rich also had his own Metal college radio show, so he knew a lot about radio marketing and promotion. He got us in a bunch of big magazines and was helping us with booking larger festivals. We had only formed just three years earlier, now suddenly we are charting on the CMJ college music charts, and getting all this exposure and positive reviews around the world. At the time, it was a great stepping stone for the band and pretty much got us to the next level, which is where we wanted to be.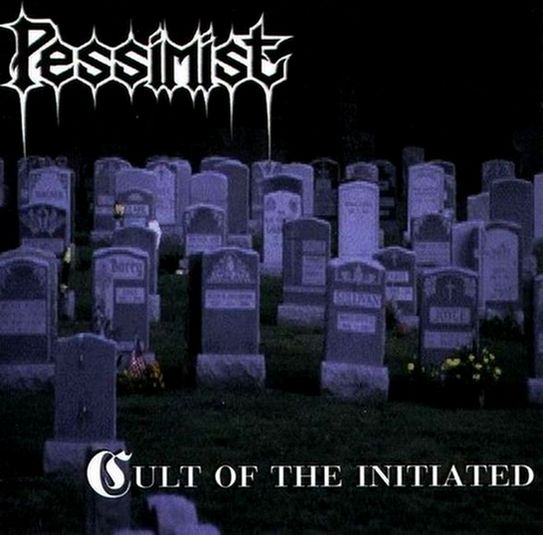 Now in 1999 "Blood for the Gods" was also issued on Lost Disciple Records. Did you have the same line-up for this release? The morale of the band must have been fantastic was it not? Did it take much time for the songs to come together?
KM: So again on "Blood" we had the same core lineup, except our 2nd guitarist was gone from the band, and we were now a 4-piece: Rob, Chris, Tony, and me. This left me to write all the music, and I went in a more stripped-down style with simpler song structures. Morale in the band was essentially great, however, there were starting to be some lineup problems. One main problem we had to start dealing with was our original singer, Rob Kline, who had been with us since the demo days – had now graduated college and was continuing on to grad school, for a career in forensic psychology. Of course, that makes for great song lyrics but was bad for the band schedule. There were several shows, and a big tour opportunity we could not commit to. In addition, it got to where Rob just wouldn't even show up for rehearsal. We could've worked around that, but the real "beginning of the end" was when Chris's brother, bassist Tony Pernia decides he doesn't want to play music anymore and left the band. We didn't realize at the time how detrimental this would be – we replaced Tony with another bass player, but then it was not long before Chris also left the band. We basically found enough fill-in players to complete our European tour in 1999, but after that, things begin to fall apart quickly.
Tell me about this European tour. Who did you tour with and around how many shows did you play? How were the crowds at these shows?
KP: This was our first European tour in 1999, it was arranged by Czech bands Godless Truth and Fleshless. The tour was probably about two weeks, and we played about 10 shows in Germany, Czech Republic, Holland, and Belgium. It was a small tour, just us 3 bands with local support but we had just released our new CD "Blood For the Gods", and so the fans were excited to see us, and we had merch, CDs and T-shirts for sale. The best thing about this tour was we made a lot of contacts, which would help us some years later when we would return to Europe again.
Now 3 years later (2002) you were back with a new release "Slaughtering the Faithful" also on Lost Disciple Records. How was it working with them back then? Did they give you any money for recording coats? Did you have many member changes between that finished Europe tour and the recording of this new record?
KM: Yes, that was a volatile time for the band. After the European tour, we basically cleaned house and reformed the entire band, with myself as the only original member. At the same time, we signed again with Lost Disciple Rec, for our third album. We had a bunch of new material written, which we played live opening for Morbid Angel, in Rochester, NY. After the show, Erik Rutan invited us to record at his studio in Tampa, Florida. Lost Disciple had given us a recording budget, but it only covered part of what we needed to record, so the rest came out of pocket.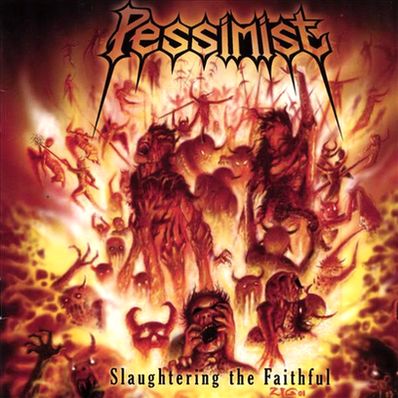 Now, where did you find the new members of the band? Tell me more about the recording of this release in 2002.
KM: We first met our new bassist/vocalist Ralph Reaper, we played a show together with his band Corrupture at NJ March Metal Meltdown (2000). At the same time, I had recruited local Baltimore-area musicians, drummer John Garden and guitarist Bill Hayden, both formerly of Fear Of God (FOG). We basically had a bunch of live shows scheduled at the time, so we wrote the album over the next 12 months or so, with our new lineup. After that in the summer of 2001, we all flew to Tampa, to record with Erik.
So what led to the band breaking up?
KM: That's an interesting question since the band never actually broke up; we just sort of went on a hiatus. We had played some shows and festivals after the release of "Slaughtering", some East Coast dates from NY all the way down to FL. The band was sort of taking a break, after that. And then I got a call from my friends in Diabolic, about forming a new band, Unholy Ghost. I was already spending more time in Florida, having flown to Tampa several times to record "Slaughtering". So we wrote some songs, and recorded a demo – and secured a record deal with Century Media/Olympic Recs. Since there was nothing really going on with Pessimist at the time, I moved to Florida, to join Unholy Ghost, and record our debut album, "Torrential Reign".
After leaving Unholy Ghost, I would again continue on with Pessimist in 2005, and again in 2008 for our "Evolution Unto Evil" CD, some shows and festival appearances, and our 2nd European Tour, in 2009.
In-between all this, I stayed busy playing in other bands, touring in Angelcorpse in 2008, recording with Horror of Horrors and Serpent Son, and playing live shows with Orlando, FL-area band, Equinox.. as well as returning to Diabolic full-time, in 2007.
That kept me busy until 2011, when I joined Possessed. So, it wasn't like Pessimist had ever really broken up. I was just busy, playing in other bands. And after parting ways with Possessed in 2013, I picked Pessimist right back up again.
Tell me about this compilation that came out in 2008.
KM: So around that time, I came to realize that the band had a handful of recorded material – cover songs, demos, B-sides, some of which had never been released. So I put together a collection, which included tributes to Kreator, Death, Megadeth, and Possessed, and some live studio demos, stuff like that. In the CD booklet, we put liner notes about the backstory, where each song had come from, and included some vintage photos and flyers, from the band. It was really something cool we put together, for the fans. That's why the title: "Evolution Unto Evil", it's like an early history of the band. I pitched it to a couple labels, and we ended up doing a co-release on Pathos Productions and Deathgasm Recs. It was never meant to be a studio album, as obviously it's a compilation… But over the years it has aged well, and gave the fans something while they look forward to our next release.
Horns up for the interview, any last words to wrap this up?
KM: Thanks Chris for the interview, and for your support! All the best with Extreminal, it's a real honour! Everyone stay tuned, for lots more Pessimist news coming soon!!