Hi Kelly! How's it goin' on and what are the news on the Pessimist side?
Hails Orthodox! The latest news with PESSIMIST is that we've just returned from playing New England Deathfest in Providence, R.I. with the re-united original lineup, and we've just released a new CD, "Evolution Unto Evil" on Pathos Productions/Deathgasm Records!!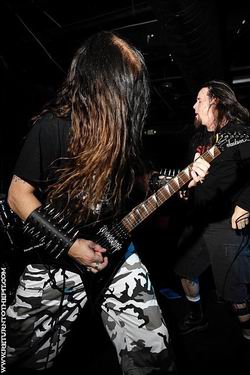 And Congratulations for re-united and new stuff of you. From begining to Year '02 you lived some line-up changes but in the '03 you left the band and Pessimist lived a break time for 2 years. Why did you break to Pessimist? And What do you say about your backin' again and your break? you had a different project with the former Diabolic members but it has finished and you back again for Pessimist aren't you?
In 2002, PESSIMIST had released our 3rd CD, "Slaughtering the Faithful", and had played several shows and fests in support of the album, including NJ "Metal Meltdown", New England Metal & Hardcore Festival, and played a few gigs with MORBID ANGEL, CANNIBAL CORPSE, DARK FUNERAL, and INCANTATION – and the band was taking a break from playing shows to write for the next PESSIMIST CD. In reality, we had been through some lineup changes, and after 3 CDs and all we had done, it was time for a break. At the same time, I was going through some events in my personal life and by 2003, I had moved to Tampa, FL and along with other former DIABOLIC members we formed a new band, UNHOLY GHOST!! So I decided to put PESSIMIST on hold for a while. UNHOLY GHOST was taking off really fast – we recorded a 3-song demo, and immediately signed to Century Media/Olympic Recs., who released our debut CD "Torrential Reign"! We got a ton of positive reviews, radio airplay and dozens of interviews in magazines worldwide – we even self-produced a video for a song that I co-wrote, "Under Existence", which was released on DVD through Century Media (Germany)! We played several hi-profile fests, including Snakenet Metalfest, Las Vegas Metalfest, Sun'n'Steel Metalfest in Tampa, and "Gathering of the Bestial Legions" in L.A.! Things were going great with this band, but I eventually parted ways from UNHOLY GHOST in 2005, originally to continue on with writing for the new PESSIMIST release – but instead found an opportunity to join DIABOLIC, which was re-forming at the time with original members Paul Ouellette and drummer Aantar Coates (who had also played in UNHOLY GHOST)! Since 2006, I have been playing full-time in DIABOLIC (except for a short break in 2007), so for the last couple of years DIABOLIC has been my main focus and priority. We've played several fests, including "Gathering of the Bestial Legions" in L.A. (with POSSESSED!) and just opened for SIX FEET UNDER on Halloween! I played lead guitar on the 2007 DIABOLIC EP, "Possessed by Death", which was just co-released as a split CD with 2008's "Chaos in Hell" EP on Deathgasm Recs. We are currently writing for the new DIABOLIC full-length CD, which should be out sometime next year!! I have also been playing in other bands – filling in on live guitar ('06/'07) with FL Black/Death Metal band EQUINOX, as well as live touring guitarist for ANGELCORPSE on their "Lightning Death Descends" West Coast Tour in July 2008!! I also spent some time earlier this year learning songs and got the chance to audition for MORBID ANGEL!! So, I have been keeping very busy with other projects! It was not until earlier this year, after getting back in touch with original PESSIMIST vocalist Rob Kline, that we discussed doing an actual reunion of the original PESSIMIST lineup!!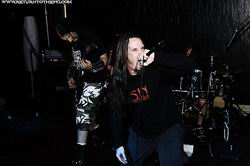 And talk about your history. You're the 15 year-old band of course but you have 3 Full-length and one more demo And your last stuff about your unreleased songs. What was the reasons about the long career and a few album and demo? I think you must to use your talent and endless inspiration to make one more album or etc.
Well, PESSIMIST was active from 1993 (when we first formed) to about 2003. So altogether, the band was only active for about 10 years, until now. We had a couple of demos, including "Dark Reality" in 1993 and then our 1995 demo/EP, "Absence of Light" – which really got us noticed before signing to Lost Disciple Records in 1997. In addition to releasing the 3 full-length CDs, we also recorded a previously unreleased track for "Visionaries of the Macabre" Comp CD on Lost Disciple Recs, and recorded for CD Tributes to legends KREATOR (Full Moon Productions), DEATH and MEGADETH (Dwell Recs), and also POSSESSED!! There were also songs/intros that we had recorded for "Cult of the Inititated", and were never released on CD. So, this was a main reason for wanting to release "Evolution Unto Evil" – to give the fans a chance to hear some of the other recordings we had done – the cover songs, plus rare/demo material and unreleased songs which had never made it to CD until now! Also, the title "Evolution Unto Evil" represents some sort of history of the band, which is why the CD has some demo stuff from the early days on there as well!
And back to your first time. How did you set the Pessimist? How was the first times?
In the very earliest days, PESSIMIST was always a live band!! We started off playing lots of shows locally at first, then out of state. When the band first formed back in 1993 we actually used to play some cover songs – from OBITUARY "Killing Time", SEPULTURA "Desperate Cries", FEAR FACTORY "Scapegoat", etc.!! Eventually we started getting gigs opening for more and more national bands, and it grew from there. We used to hand-make our first PESSIMIST T-shirts, and copy all our demo tapes by hand. Back then, it was the underground – and so we did a lot of mail – writing to bands and zines all over the world and trading tapes, flyers, etc. It was after we recorded our 1995 EP/Demo "Absence of Light" that we really started getting some reviews in magazines like Metal Maniacs and Wild Rag, and opening for bigger bands, that we started to get some label interest.
And you're of courselly a different band in unholy death metal because of your brutality. Because we always see the brutal death metal band in the gore, death, surgery or torture. But you choose to use unholy lyrics in your songs. What're the causes of this? What's the basic components of your music?
Well, we all grew up listening to evil bands like SLAYER, POSSESSED, etc.!! And of course there are also other Death Metal bands with evil lyrics, such as MORBID ANGEL, DEICIDE, and IMMOLATION, and so we were heavily influenced by those bands early on as well. Also the lyrics – our vocalist Rob Kline is actually a Doctor in Forensic Psychology, and so he is able to draw on his experiences and studies for dark matters and song subjects. And then our drummer, Chris Pernia, who has more of a technical Death Metal and jazz-influenced playing style, makes our music even more unique. The end result is brutal and technical Death Metal, with evil songs and lyrics!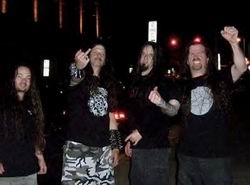 In your first shows you were the opening band of Incantation, Deicide, Suffocation etc. Were you influenced from these bands in your music?
Of course! Getting the opportunity to play shows with these bands in the early days was a huge deal for us – especially since the style of our music and that we are huge fans of that early 90's Death Metal!! Those bands are some of the true pioneers of Death Metal, so it was a great honor to share the stage with these bands, and I'm sure that you can hear some of their influences in our music.
And When I every listen to your album I heard so much different good riffs solos or different guitar technics. And I compare you to Immolation. 'cause of your variable and high speed riff technics, solos or drums. do you so any similarities between of you and Immolation?
Thanks, that's a huge compliment! Of course IMMOLATION are an incredible band and one of my favorites because of their guitar techniques and songwriting style! But no, I really don't see any musical similarities, at least not on our first two CDs… I guess maybe our 3rd CD "Slaughtering the Faithful" has some similarities because of the blasting drums and the fast, technical and chaotic sound of the riffs…
From your first to last full-length albums, I heard always differences and when I every listenin' to your album I always say "YES This is the sickness" How did you find this musicality? Is this the advantage or disadvantage for a band when you produced new stuffs'?
PESSIMIST is a band that never wanted to put out the same album twice – hopefully you notice some similarities and a natural progression of the musical style with each release. I think it's just by staying true to our roots in Black/Death/Thrash Metal and to our musical influences that this is attained.
Your '97 '99 full-lengths have recorded by your first line-up and we feel lots of black influences next on brutal death metal, in vocals or samples. But you had a line-up changes in 2000. And in the year '02 your 3rd full-length released which named "Slaughtering the Faithful" with new members and you. And in this album I heard more brutalities and death metal elements without black influences. What do you want to say about this? What's the causes of changin' ? Is it about line-up changin', want to make different things or other etc.?
Yes, well it was a combination of several factors – most importantly, I wanted to take the band in a faster, more brutal and extreme direction than on previous albums – but also having different members in the band, and their contributions toward the songwriting process. We had a new drummer who was really into playing faster, and more blast beats throughout the songs – plus vocally, we weren't really doing as much of the high, raspy black metal-type vocals on "Slaughtering"… I think that's probably the main difference you will hear. Guitar-wise, "Slaughtering" was our most advanced – I had spent a lot of time crafting the riffs and arrangements, and in my opinion some of the coolest and sickest guitar riffs I had ever written… unfortunately, most of the details of the riffs were kind of lost in the mix so to speak, when it came to recording the album.
And Erik Rutan was the producer of this album. And engineered by Erik Rutan, Derek Roddy and you. Was your music in this album influenced by these 2 big names?
Well it did not affect the songwriting or the music itself, but it definitely affected the recording and production. We had flown the whole band down to Tampa, FL to record in Erik's studio, which was a pretty big deal for us. Since Erik was playing in MORBID ANGEL at the time, and they were on tour with PANTERA and then with SLAYER, so we recorded all the drums, vocals and scratch tracks with Derek Roddy [drummer for HATE ETERNAL]. Later, when Erik got back from tour, I flew back down to FL two more times and recorded all the rhythm guitars with Erik, and I engineered all my own lead guitars in the studio – meaning that I would have to set up the tracks to record, play my solos, then stop/edit or punch in wherever I could, then forward the tape to the next song section and set up the tracks and do it all over again. After recording rhythm tracks all day, Erik would go home for the evening and literally lock me in his studio overnight!! It was a lot of work that I had to do myself, rather than just playing the solos and having an engineer recording the tracks. So in that regard, it was definitely challenging, and a learning experience. Also, Erik insisted that I play his Yamaha guitar (that he played during "Gateways" Tour) through his Marshall amps to record – it seemed like a good idea but it was kind of strange playing a guitar that I had never played before, and it didn't have a tremolo bar for my solos or anything. And the amps didn't really have my guitar sound that I was used to recording with, like on the first two PESSIMIST CDs, so that was different too. When it came to mixdown, that is entirely Erik's mix and production. There were several things I would have done differently in the mix, so that it would sound more like our first two CDs – and I tried to make suggestions – but I think Erik had in his mind how he wanted the record to sound, and what you hear is the end result.
How would you personally describe the musical differences between old and new Pessimist? Are you still happy with the old releases? Or do you want to use new materials?
Well of course I want our music to continue to evolve, and improve with each CD – better production, etc. – and still retain that catchy songwriting style that PESSIMIST is known for. I don't see any reason to try and change our musical style or songwriting approach, and so the new music we are writing for the next CD is of course similar to our previous CDs, but it will also have its own identity. I am really excited to be working with the original lineup again! I would describe our new material as a combination of our first 2 CDs, "Cult of the Initiated" and "Blood For the Gods", plus some of the speed and technicality of our 3rd CD as well.
In '05 you entered the re-united process with main first member of Pessimist without Tony. And it was the first sight of apocalypse. You, Chris and Rob met again and Kelly Conlon joined the band on bass guitar. How did this meeting become? And Are you glad to meet your old friend again?
Well, I had stayed in touch with original PESSIMIST drummer Chris Pernia over the years… we had gotten together briefly in 2005 (after I had parted ways with UNHOLY GHOST) and jammed some of the old tunes, and we were working on some new riffs, but nothing was really happening at that point. Chris had been in touch with Rob, who had also moved to FL a few years ago. In fact, as it turns out, we both live in FL now – and only a couple hours away from each other! So, I had gotten in touch with Rob earlier this year, and soon we spoke by phone for the first time in about 8 years!! We had a lot of catching up to do. Before long, we arranged a meeting together. It was great to be friends again, as when Rob parted ways with the band back in 2000 there were a lot of bitter feelings. It could not be helped, since at the time his career was holding back the band from touring so we had asked him to leave and believe me, it wasn't an easy decision to make. But now, we were able to work past all of that, and so we started talking about doing a reunion of the original PESSIMIST lineup! The only problem was with our original bassist, Chris' brother Tony Pernia, who is no longer involved in playing music at all. So we would need a replacement. Coincidentally, I was in touch with my good friend Kelly Conlon, (who also plays in MONSTROSITY, and played on DEATH's "Symbolic" CD) – and he had offered to help us out if we ever needed a bassist! So, I called him up and told him what we were doing, and he was immediately interested! Kelly's playing style is a perfect fit for the band too, since our original bassist Tony already played a similar style! Soon after making the announcement of the re-united PESSIMIST lineup, we got invited to play New England Deathfest 2008!! So, it was with this lineup that we played our first reunion gig together last August, in Providence RI at the NE Deathfest, headlining the stage in Club HELL, and it was killer!! And we are currently writing together towards the next release.
And I want to ask something about band. Who is the frontman in the band?
Of course our singer, Rob Kline, is the frontman for the band! And anyone who has seen PESSIMIST live (with Rob in the band) will tell you that he is a killer frontman! He really knows how to get the audience into the show. People in the crowd seem to relate to Rob, which is perfect for a singer who is fronting a live band. We really couldn't ask for a better frontman.
In your first albums. Lyrics have written by Rob and have composed by you. In the last album You write the lyrics and compose them generally. How do you write and compose the songs. And what kind of feelings you're in when you're writing the songs?
Well, to be clear, most of the lyrics on "Slaughtering the Faithful" were written by Reaper, our bassist/vox at the time. But there were songs that I wrote and also helped co-write. At the time I was writing for "Slaughtering" I was going through a lot of anger and hatred in my personal life, and so I think that comes through both musically and lyrically. Also on "Slaughtering", we wrote some of the music around the drums, which was kind of a new and different approach to songwriting for this band – on all of our other CDs we have usually started off with some guitar riffs that I wrote, and I would work out the arrangements with Chris on drums, until we have sort of a skeleton of the song arrangement. Then usually I might have a song title, or Rob would have an idea for the song, and we would just track the guitars and drums, and Rob usually writes the lyrics around that. But there's really no strict guidelines about it – I mean, if one of us has a song idea, or an intro or a riff that we can work around and sort of start the song from there, we will try that… it really depends on the song!
Which bands did influence Pessimist's or your music?
We are mostly influenced by early 90's Death Metal, and that is what we are all fans of – bands like DEICIDE, CANNIBAL CORPSE, MORBID ANGEL, OBITUARY, SUFFOCATION… but also Thrash legends (of course!) such as SLAYER, POSSESSED, KREATOR, DESTRUCTION, SODOM, etc. etc.! Our drummer Chris is heavily influenced by more technical Death Metal bands like ATHEIST, DEATH, CYNIC, and stuff like that. We also have some Black Metal influences – I think that adds a lot to the way PESSIMIST's music sounds.
And I askin' to something about your new release. How did you decide to gather your old unreleased stuffs in a comp.? And you released this Comp. with your new label. Did the Comp. release for restartin' or you continue to your career with your new label and it was the offer of the Label?
The idea for this CD was entirely my idea – I had been thinking about it for a while, and noticed that PESSIMIST had quite a lot of recorded material that had either never made it to CD for one reason or another, or was just rare and unreleased material, plus the cover songs, paying tribute to our early influences. And so I started gathering the material together – there are even more songs that I had to cut from this release – some live tracks for example, and rough 4-track demo stuff from "Blood For the Gods", more early demos such as "Dark Reality II" (which has never been released) and even a live performance on-the-air at WNYU "Hellhole" Radio show in NYC!! I wanted to put this realease together for one reason mainly – for the fans, who had never heard these songs, and for true PESSIMIST fans who wanted more for their collection! It started off as a very small project, and I found an artist to work with, Mike Fortier of Morbid Subculture – and we began working on ideas for the cover art and the layout. Originally I was going to press this CD myself, and also as a co-release with Grim Nocturnal Recs, run by my good friend Ivan of BLACK MASS. But as the release started to come together, I had mentioned the idea to Pathos Productions, (who was referred by our previous label Lost Disciple Recs), and then eventually to Deathgasm Recs, who had just released the new DIABOLIC CD, and who could get us even better promotion and distribution! Finally, now I am happy that this project I had been working on for over a year has come together, and the response from the fans has been great!!
And How're the Fans' reacts, rewiews, feedbacks about this comp. or about this returning?
The fans have been great! Everyone so far has been real supportive about our return, and the fans are asking for more new PESSIMIST!! We've gotten some good radio airplay on college radio here in the US and around the world, even placing in the Top 10 on the CMJ Loud Rock charts in NY… in the press, we have gotten mixed reviews on "Evolution Unto Evil" CD, and as I mentioned before, this release is really just for true PESSIMIST fans! When we finished playing our set at New England Deathfest in RI last August, the whole crowd started chanting "PESSIMIST! PESSIMIST! PESSIMIST!" I have never seen anything like it before in the history of this band!! So yeah, I'd say that the fans are into it, and they want more new PESSIMIST!!!
You played in a lot of shows and fests with a lot of bands but which band you played with was unforgettable in your career?
One of the coolest and most unforgettable shows PESSIMIST ever played was in 1996 in Maryland, at Wilmer's Park in Brandywine, MD (near Washington DC) – the show was outside, an all-day Metalfest called "Noize-Fest" that I actually booked and promoted!! The headliners were TESTAMENT, FORBIDDEN, SUFFOCATION, CROWBAR, plus PESSIMIST, HORROR OF HORRORS and others. It was fucking awesome!! Another show I promoted back in the day was the Extremities Tour – with VADER, MONSTROSITY, BROKEN HOPE and PESSIMIST!! These were both great gigs that stood out early in our career, and helped the band get noticed. Other highlights include our European Tour of Czech Republic and Germany in 1999 with FLESHLESS and GODLESS TRUTH, opening for MORBID ANGEL and IMMOLATION in NY, opening for DEICIDE, DARK FUNERAL and CANNIBAL CORPSE at Jaxx in VA, playing "November to Dismember" in TX and L.A… also Milwaukee Metalfest in 1998 when so many killer bands played that year: DESTRUCTION, EMPEROR, SUFFOCATION, CRYPTOPSY…
And of coursely you played in the big festivals all across the world but one of the fest which named Maryland Death Fest and We didn't see you in this very important festival. By the way you're from Baltimore Maryland and I suppose you're the only one band which played in your home fest not? Why didn't we see in MDF?
Well, by the time MD Death Fest started just a few years ago, PESSIMIST was already taking a break from playing shows – I had moved to FL in 2003 and was playing full-time in UNHOLY GHOST!! Even if we would have been invited, the band was not active and not playing shows at that time. However, Rob, Chris and Tony also had a band called PSYCHOTOGEN, who did play MDF! PESSIMIST has already been invited to play two other festivals in 2009 – so now that we are back playing shows, maybe one day we will play MD Death Fest!
What do you think about Death Metal History? From first time to this time How did the Death Metal changin' in history?
There have been a lot of changes in Death Metal history since the early days – the bands, the music, so many important albums and so many changes in the way the music industry works since then. Hell, when we first started there was really no such thing as the internet… tape trading and distributing flyers in the undergound was still the way to get into the scene and get the word out about your band! At the time that PESSIMIST first formed, there were tons of great albums coming out: CANNIBAL CORPSE "Tomb of the Mutilated", DEICIDE "Legion", OBITUARY "The End Complete", the list goes on and on. In many ways, most "modern" Death Metal bands have never really touched on the level of the early pioneers.
And What's the rank of Pessimist between of other Death Metal bands?
I'm not sure how to answer that – I mean, PESSIMIST obviously has our own place in Death Metal history, and in the underground!! We do have 4 full-length CDs out as of now, but of course it has always been on independent record labels. And we have played hundreds of shows, in the US (and in Europe in 1999), and opened for lots of national bands – but never a huge headlining tour, a video on MTV or anything like that. So I guess it depends on how you would "rank" a band… I don't really try to compare us or measure our success by other bands. I know that I get emails from fans and from kids who have now started their own bands, who grew up listening to us, who say that PESSIMIST influenced their life or got them started in Death Metal, and to me that is just fucking awesome!!!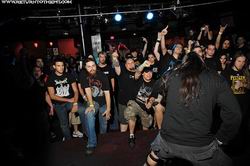 And I askin' some personal questions about you;
What's your top 3 bands?
That's a really hard question, because I have so many favorite bands!! But if I had to pick just 3, I would have to say SLAYER, DARK ANGEL, and DEVASTATION!!
What's your favorite album have you ever had?
I have lots of all-time favorites, here are a few: SUFFOCATION "Effigy of the Forgotten", SLAYER "Reign in Blood", "Hell Awaits" and "South of Heaven", DARK ANGEL "Time Does Not Heal", DEVASTATION "Idolatry", DESTRUCTION "Eternal Devastation"… and KING DIAMOND "Conspiracy"!
You're of courselly a big guitarist but what's your number one guitarist all over the World?
Thanks! I have many favorite guitarists but my absolute favorite is Andy LaRoque, from KING DIAMOND!! Also Ralph Santolla (OBITUARY), James Murphy (DISINCARNATE), Trey Azagthoth (MORBID ANGEL), Rocky George (SUICIDAL!), Terrence Hobbs (SUFFOCATION), Robert Vigna (IMMOLATION), Alex Skolnick (TESTAMENT), Eric and Brian Hoffman (DEICIDE), Glen Tipton & K.K. Downing (JUDAS PRIEST!), Yngwie Malmsteen, Michael Angelo (SPEED KILLS!!), Randy Rhoads, The Great Kat, George Lynch, Marty Friedman, Steve Vai, Jeff Hanneman & Kerry King (SLAYER!!!)
And my last question. What will we wait from Pessimist in near future? How' the workings about new full-length? Have to we wait differences about music or the others?
We have already started writing together for the new full-length CD! In fact just last weekend Kelly Conlon and I began laying down some guitar and bass tracks, at his home studio in AZ… tracking a few demos, just some riffs and drum beats we have laying around. Kelly C. has some more riffs and arrangements we are working on, and I have a couple songs worth of riffs also. Next I'll be tracking some more guitars and sending the demos for Chris to check out, and we'll start working on the arrangements, and send it to Rob to check out and start work on some song ideas and lyrics. But there's no rush really, and it's kind of a slow process since we are all scattered across the country now, and we are all busy with our lives and other musical projects.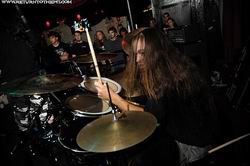 What do you think about new shows, tours, festivals? Have you any plan about tours? The Dates are declarate about the tours, shows or fests?
PESSIMIST has already been invited to play two festivals next year in 2009: one in Philadlephia, and an open-air fest in Germany!! There is no additional info as of now, but stay tuned to our web site for updates!

And my last questions you have really good and one more fans in Turkiye. And do you know anything about Turkish metal scene and Metal bands from Turkiye?
I don't really know anything about the metal scene in Turkey – but I'd be glad to check out some bands if you can recommend any! I'm sure that it helps to have a cool webzine like Extreminal as part of the Turkish metal scene!
Finally! Kelly what would you like to say your fans who read this intie and your Turkish fans of course?
Thanks to all our fans for your support over the years! Check out our latest CD "Evolution Unto Evil" OUT NOW on Pathos Prod/Deathgasm Recs! Stay in touch, and we hope to see you on tour!! And be sure to check our web sites: www.pessimist.com and on MySpace: www.myspace.com/pessimist KEEP MUSIC EVIL!!!!!
(For more info about my other projects check out www.myspace.com/unholyghost and www.myspace.com/diabolic666 )
Ok I want to say thank you and I glad to make this intie with you. I hope to see you somewhere on stage. Maybe in Turkiye or other countries.
Good luck always be with you
Stay Dark and Brutal