Reviews
PATRONYMICON – All Daggers Towards The Sky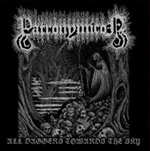 Carnal Records – 2013 – Sweden
Swedish black metallers Patronymicon's second album "All Daggers Towards the Sky" was released by Carnal Records which is the one of the well known and important companies.
After I listened the first album and I watched some videos of the band,at least I listened "All Daggers Towards the Sky" five times to review.There are some differencies between new one and first album ''Prime Omega''which is dominated by a raw sound and Prime Omega is identified between a combination of the middle times of Darkthrone and with some effects of speedy swedish black metal and "All Daggers Towards the Sky" is easily identified as classical swedish black metal at all.
Band's songs have some effects of swedish bands like Watain,Disssection, Ondskapt, Dark Funeral, Lord Belial and also some effects of Enthroned.I think that band's future looks bright because they usually play at live shows .
8/10