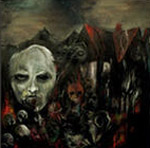 I met your music with your first work "Atrocity Divine". I was interested in your art-work and I bought it. As on your following 2 albums, we see the same art-works. It's really nice. Who creates these art-works? Are you going to use the same concept on the upcoming albums?
SAGSTAD: We have had the same artist on all of our releases, he goes by the name of Kjell Åge Meland. He is a good friend of ours and he lives here in Oslo, so it is easy to hook up and discuss what we are looking for. We usually give him our songs, which he then transfers to and old cassett (he doesnt have a cd`player at his place) and he gets inspired by our music and starts painting. He is an insanly talented guy and makes the sickest paintings you have ever laid your eyes on. Kjell Åge has become a very important part of PANTHEON I so to answer your question, yes we will be using him on our new releases aswell.
Even you are using cello and violin in your music; you don't break up the aggressivity. Normally the bands goes the way to be a symphonic black metal band. Would you like to tell something about it?
Yes, first off, we dont use the violin anymore. That was only used on our demoes, first album (ATROCITY DIVINE), and 2 songs on our second album (THE WANDERER AND HIS SHADOW). Well, we are 5 extremely agressive persons in the band, so not making aggressive music would not be natural to us.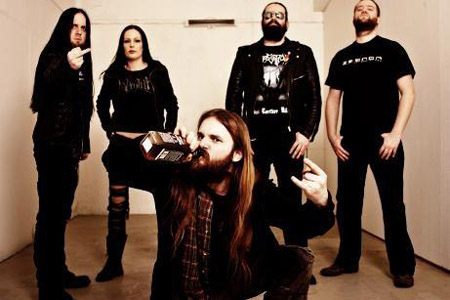 And also, you don't have the violin on your last album. What's the exact reason that violin has been cancelled?
Our violin player left the band after our first album, and we quickly discovered that PANTHEON I sounded much better without it. We got a more sinister and dark feeling to the music when we just focused on the cello.
For my country "Turkey", I can say that; it's very hard if you try to convince anyone who plays cello into black metal. Also its very hard to make him love this music. But if we are talking about Norway, this is not absurd. I'm wondering about musical thoughts of Live Julianne…
LIVE JULIANNE: For me no convincing was needed. When I was asked to play in Pantheon I, I listened to Metallica, Katatonia and also some gay metal bands that I would rather not mention. I thought Pantheon I was a bit noisy but I loved the atmospehere of the music. After a few listenes and rehersals I got bit by the bug, and there was no turning back. I had found my music.
Probably you have fans from the other bands. What about the albums selling rates and concert feedbacks?
SAGSTAD: To be honest i have no idea what so ever how much albums we have sold… The idiot who released our first album went undergound about 1,5 year ago and we have not been able to contact that scum ever since!!! And regarding the sale of the two other albums, I have not yet seen any statements.. But the concert feedback has been beyond all of our expectations and we are very honored and happy about that. It really gives us the energy we need to keep blasting and defiling religion!!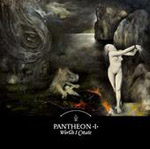 "Worlds I Create" was published by the beginning of the last summer. Is there anyother difference between this album and the others except the line-up?
Yes, off course! We all have become way better musicians as the years have gone by. We also used a new studio called STRAND STUDIO (Oslo) and we are very happy with the job he has done on the album. He got the sound we have been looking for for so many years.. Even though we have not yet gained the perfect sound we are looking for, we have never been closer! So maybe the next album will be 100%, who knows?
What are the expressions you can tell me about the album "Worlds I Create"?
A big punch in the face of religion and a big fucking punch in the face of everybody who have not supported us or believed in us!
I've watched the video of "Serpent Christ" on youtube and it's fantastic. This song was also in your single which also released in your album. What makes this song special?
I dont know, it was just the lucky one to be picked out!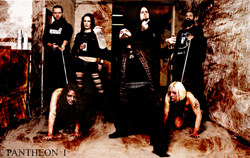 The videography is excellent! It's already shown at the end of your video but for the ones reading this, who does it belong to? Does he have any other productions?
We got our good friend Espen Krukhaug (who also made our first musicvideo for the song "WHERE ANGELS BURN") to film and produce the entire thing, so he also brought in a second filmguy by the name of Jamie Richfield. Espen works as a photographer, and he have also done two promoshoots for us
Your debut album Atrocity Divine was released by World Chaos Productions, but now you work with Candelight Records. Did you ink a deal with World Chaos only for one album? How have you signed with Candlelight? Would you tell us what their conditions are for example.
Yes, the scumbag from WORLD CHAOS PRODUCTION, who stopped replying all our mails one and a half year ago. We only sigend for one album with World Chaos, and i am DAMN happy we did! So before our second album we signed a deal with the legendary CANDLELIGHT RECORDS, and we are still on that label.
How have the shows been until now? Which show was the most delectable?
Well, then you should check some more, because we just got back home from a 23 days European tour as main support for ABSU, and we have 2 shows to play in Russia early December. Before that we had a small Norwegian tour with our friends from Dead Trooper (you should check them out, killer trash!!!). The shows have been super fantastic and we cant wait to get back on the stage again! There is one show in particular i have to mention and that was the show we did in Plymouth on the European tour, damn, that was just insanly awsome!! One of the coolest crowds we have ever played for!
I'd like to thank you for taking time to answer my questions and I'm looking forward to see you here. The last words are yours.
Thanks for your support mate!! And remember kids, never ever deck her, with an unwrapped pecker! There is enough stupid ass religious people in this world allready!!